What You Need to Know About the Future of BVLOS
In the fast-paced world of drone technology, a novel concept is changing the face of aviation – Beyond Visual Line of Sight (BVLOS) flight. Currently, by law, drone operators must keep their unmanned aerial systems (UAS) within a half-mile radius, limiting the extent of their operations. The advent of BVLOS represents an exciting new frontier, opening new opportunities for drone pilot operators and more extensive uncrewed operations such as urban air taxis, infrastructure inspections, and delivery services by major companies like Amazon or UPS. This innovation could revolutionize industries, yet significant challenges, particularly regulatory hurdles, and safety considerations, must be addressed to ensure its successful implementation.
As the dawn of BVLOS flight approaches, the key question is: how can this technology be safely, predictably, and effectively implemented? What are the innovations, challenges and opportunities, standards, and regulatory considerations associated with BVLOS flight?
Welcome to "Beyond Expectations," by uAvionix, hosted by Michelle Dawn Mooney. In this episode, Mooney invited Trent Martinez, an Engineer at uAvionix, for a discussion on the intricacies and potential of BVLOS flight.
Key points from the episode include:
An explanation of BVLOS, its importance for the future of uncrewed flight, and the potential applications of BVLOS operations.
A deep dive into the significant challenges associated with BVLOS operations, including the need for FAA waivers and stringent safety measures.
A look at the crucial components required for successful BVLOS flight, such as high integrity command and control hardware/software and advanced situational awareness technology
Trent Martinez is an integral part of the team at uAvionix Corporation. Having been with the company since its inception, Martinez provided critical engineering support during the initial bootstrapping phase. A graduate of Embry-Riddle University, he also holds a Part 107 certification as a Small Unmanned Aerial System (SUAS) pilot. His expertise in unmanned flight makes him uniquely positioned to shed light on the evolving landscape of BVLOS flight.
As unmanned aviation takes flight, it's evident that uAvionix is at the forefront of this innovation, contributing significantly to developing the necessary hardware and software. The discussion with Martinez emphasizes that as BVLOS flight becomes more of a reality, it promises to revolutionize various industries, from package delivery to infrastructure inspection. But its success will largely hinge on navigating regulatory landscapes and ensuring stringent safety measures, demonstrating the importance of ongoing dialogues such as these.
Latest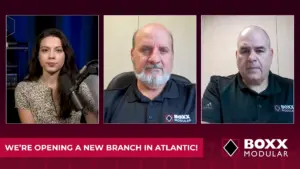 December 4, 2023
In an era where construction innovation is reshaping the industry, modular construction's growth continues to rise. In this episode of Built Modular, Boxx Modular's strategic expansion into Moncton, Atlantic Canada takes center stage. Host Gabrielle Bejarano welcomes Charles Landry and Ray Girouard to explore the implications of this venture. Bejarano, Landry, and Girouard discuss […]
Read More