WiFi vs. Industrial Wireless and Why You Should Care
Cutting the cord has become about much more than lowering the cable bill. Businesses are quickly realizing the benefits of utilizing high speed wireless data services that don't require large amounts of downtime or investments in infrastructure. And to keep customer information safe while meeting strict PCI requirements, these organizations are only interested in solutions that can provide secure and reliable connections.
While many retailers are aware of the inherent benefits of wireless Ethernet solutions, they are worried about security. It is important for businesses to understand the difference between what is commonly referred to as "WiFi" and other Wireless technologies, such as Wireless Ethernet, which are designed with security and "always connected" reliability.
WiFi
Wi-Fi is a term for a specific technology of wireless local area networks based on 802.11 specifications standardized by the Institute of Electrical and Electronics Engineers (IEEE) standards committee. Wi-FI is not a specific router or technology, but rather a set of standards accessing WLANS.
Many separate companies are associated with the Wi-Fi Alliance and set the standards.
Industrial Wireless
Industrial Wireless is simply a group of connected devices. These networks can be set up for machines to communicate directly with each other, or through a bridge or access point. Wireless LAN technology most commonly relies upon speedy Ethernet connections.
What's the difference?
When most people think about WiFi, they think about places like airports and coffee shops, with good reason. Many public locations will offer free and unsecured WiFi access to guests looking to update Facebook or check their email. This technology involves routers extremely similar to what you would find in a consumer home.
The encryption available on many standard WiFi devices is inadequate to protect against any real attack. Consequently, these networks are not very safe and can easily be hacked by malicious data thieves.
Industrial Wireless solutions on the other hand refers to a broad spectrum of Ethernet solutions that can be custom coded and protected for sensitive data. Wireless Ethernet technology uses dedicated customer premise equipment device, network switches, and access points to keep consumer information safe. The security and reliability of Industrial Wireless makes it the best solution for industrial IoT connections.
How can Wireless LAN technology support your business?
AvaLAN creates reliable Ethernet connections for commercial and retail fueling stations, digital signage, retail point-of-sale, and other industrial automation applications. While Wireless technology innovation and manufacturing is at AvaLAN's core, AvaLAN continues to focus on resolving client challenges through their complete solutions.
Learn more about how we can build the perfect wireless solution for you.
Latest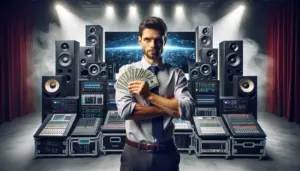 December 8, 2023
Mastering AV sales strategies in a global professional audio-visual (Pro AV) market, poised to reach $79.2 billion by 2028, requires much attention to detail. The surge in demand from corporate, government, and institutional sectors, driven by the need for enhanced productivity and efficient working environments, gives AV sales pros a lot of opportunity. In […]
Read More