Will the Election Impact the Future of Drones?
Election Day 2020, which will see Americans decide between incumbent Donald Trump and Democratic nominee Joe Biden, has plenty of implications – including for the advanced technology solutions roaming our skies.
On this episode of Drones in America, Akin Gump Strauss Hauer & Feld LLP Senior Policy Advisor Justin Towles dove into a weighty topic – how the upcoming United States presidential election could impact the near and long-term future of the drone industry in the country.
In particular, the duo tackled the commercial drone industry, which has seen tremendous expansion – and, regardless of who is in office come late January of 2021, could see even more.
"There's no doubt about that. … The reality is it doesn't matter [who wins], especially at the Department of Transportation level, the Department of Commerce," Towles said. "At some point, our politics don't matter. The folks at that level have been great to work with.
"At the end of the day, we're all on the same team, and we have to work together."
The Trump administration, Towles said, has made a commitment to prioritizing drone technology and commercial drone use, and that commitment would be upheld by a potential Biden administration.
"The reality is that we're going to be moving forward toward a more technologically advanced society, and that is going to require the regulatory framework that we've been working on for so long," Towles said. "Drones are here to stay."
Latest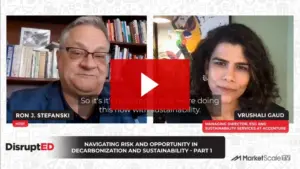 September 26, 2023
The global conversation has shifted dramatically towards decarbonization and sustainability in recent years. With the world experiencing unprecedented levels of disruption, from 5G technology to the challenges of a pandemic, the urgency to address climate change and its implications has never been more palpable. Although most business leaders see the vision of Sustainable Development […]
Read More