ConnecTEd World: Wireless Solutions for IoT
The Internet of Things (IoT) market is booming, reshaping our everyday lives with interconnected devices. As we embrace this digital revolution, one crucial aspect to consider is the role of wireless solutions. From smart homes to wildlife conservation, these solutions are central to the effective functioning of IoT devices. However, the shift towards 5G technology, while promising unprecedented speed and efficiency, also presents new challenges in device design and wireless connectivity.
So, how do we navigate these challenges to harness the full potential of IoT? What does the future hold for 5G technology and IoT devices?
Welcome to our latest episode of Our Connected World, where our host delves into these exciting questions with guest Felisa Chuang, Product Manager RF, Antennas, at TE Connectivity. The conversation uncovers emerging trends and future prospects in the IoT and 5G space.
In this episode, we discuss:
The requirements for designing 5G-accessible IoT devices, and the role of efficiency in high-quality signal transmission and optimized battery life.
The increasing need for antennas as smart buildings and homes proliferate, and strategies to develop these without causing interference.
Chuang's vision for the future, like preserving natural habitats.
"Interconnected devices that can transmit and share data and bridge the gap between the physical and virtual worlds, like IoT devices, help us create very smart environments," says Chuang, emphasizing the transformative potential of IoT.
Felisa Chuang is a leading figure in wireless connectivity. With her role at TE Connectivity, she is at the forefront of developing innovative wireless solutions, and her insights offer a valuable peek into what the future might hold for IoT technology. Be sure to subscribe to our industry publication for more engaging conversations on Software and Technology.
Twitter – @MarketScale
Facebook – facebook.com/marketscale
LinkedIn – linkedin.com/company/marketscale
Latest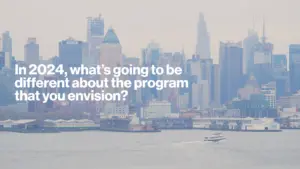 December 1, 2023
In the dynamic telecommunications landscape, Verizon's Partner Network continues to evolve, adapting to new trends and opportunities. For another segment featuring Mark Tina, VP of Indirect Channel Distribution and Channel Chief at Verizon Business Group, he explores exactly what types of significant changes and advancements the Verizon Partner Network will see in 2024. In this […]
Read More