Working Toward Universal Connectivity in Drug Delivery
HealthPrize Technologies is teaming up again with West Pharmaceutical Services, Inc., to incorporate additional features into the system they developed a few years ago aimed at rewarding patient behavior that complied with their injectable drug regimen.
The past three years have seen much success, but they have also seen continual evolution in patient reaction and adaptation to technology. In keeping with the pharma trend toward seeking holistic solutions, the new updates include an improve user interface, dedicated sales staff, and increased functionality for the West device and the HealthPrize platform.
In addition, the team have learned that they need to be more flexible and offer more choices to pharma companies. But the main goal for the second-generation device is increased connectivity. Keeping in mind the large amount of data potentially involved and the digitization of health records, it makes sense to aim for inoperability across platforms.
The HealthPrize platform interacts with patients using gamification, behavioral economics, and consumer marketing concepts. The goal of this ongoing collaboration, according to Chris Evans, vice president, global innovation at West, is to connect to any device, which could help achieve what he called "universal connectivity."
Read more at MD+DI
Latest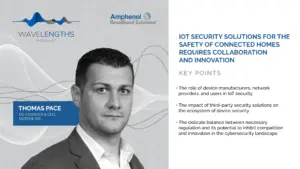 November 28, 2023
Since the introduction of smart devices, the world has increasingly become dominated by interconnected devices but IoT securitydemands are also growing. The "connected home" has shifted from what was once a futuristic concept to reality. With the global smart home market projected to reach $135.3 billion by 2025, the conversation around the security of these […]
Read More