Amazon Music Podcasting Goes Exclusive
Amazon Music is expanding its content portfolio by launching podcasts on the platform.  Content will be available for both free and premium subscriptions. Podcast audio can also be listened to via Audible.
The announcement has raised questions and concerns from podcast producers as well as listeners.
"Amazon's actions here clearly demonstrate they are looking to become a major player in the podcasting space," said Sam Brake Guia, podcast expert and host of Publicize.
Some are concerned that Amazon will limit accessibility to podcast producers and censor content with its terms and conditions.
"Make sure you read the terms and conditions," said Dave Stokes, podcast producer and founder of author2audio.  "Just remember that free is not the same as freedom."
Amazon's decision to selectively engage with top producers is a different approach than other platforms.  Whether this move is successful or not, both Guia and Stokes agreed that Amazon's entry into the podcast industry would inhibit accessibility. 
"Amazon's search for top podcast producers shows they take a more selective approach and perhaps even an elitist approach to podcast content," said Guia.  He noted that Amazon may be looking to be the "Netflix of podcasts" and only host premium content.
Stokes commented that Amazon's platform would be a place where "production quality is favored over content freedom and follower numbers are paramount to content diversity."
Follow us on social media for the latest updates in B2B!
Twitter – @MarketScale
Facebook – facebook.com/marketscale
LinkedIn – linkedin.com/company/marketscale
Latest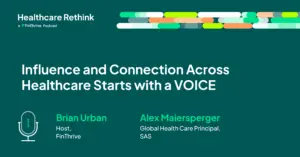 September 29, 2023
In the latest episode of the Healthcare Rethink podcast, presented by FinThrive, host Brian Urban sits down with Alex Maiersperger, the Global Principal Healthcare at SAS. Their conversation charts the role voice plays in influencing and connecting the healthcare industry. Maiersperger, who co-founded the Advancement League, shares his journey from being a healthcare optimist to […]
Read More