'Black Panther: Wakanda Forever' Box Office Success Reflects Power of MCU, Not the Movie Theater Experience
"Black Panther: Wakanda Forever" is not only already a critical success, but has continued to exceed expectations at the box office domestically and abroad, setting opening weekend records. On its debut weekend in early November, "Wakanda Forever" grossed $180 million, destroying the previous record holder for stronger November opening in North America, "The Hunger Games: Catching Fire."
This overall theatre energy has carried "Black Panther" all the way into Thanksgiving weekend, with "Wakanda Forever" over-performing by a few million dollars at an estimated $64 million over five days, bringing its DBO total to $367 million. Along with the movie marking Marvel's first African-continent premiere by rolling the red carpet out in Lagos, Nigeria, "Black Panther" has made similar box office waves internationally, surpassing $650 million globally by Thanksgiving weekend.
With Netflix's unexpected theatrical release of "Glass Onion" (and its positive performance at the box office as well), media professionals are re-raising the question of the role of the movie theatre in film release strategies. Is this an indication that the tides are shifting back towards the movie house as a viable space for innovation and revenue in the larger film industry?
J.D. Connor, Director of Graduate Studies and Associate Professor in the Division of Cinema and Media Studies at USC, thinks that while this performance is definitely something to call home about on advanced Vibranium tech, it speaks more to unique factors surrounding "Black Panther," not the movie theatre market per se.
J.D.'s Thoughts
"As remarkable as the theatrical performance of "Black Panther" in November is, setting records in the United States and many abroad, I don't think that it's indicative of a dramatic change in the conditions or the situation of the theatrical movie-going experience. It is a testament to the continuing dominance of the Marvel Cinematic Universe and its ability to get people to go to theaters on opening weekends, and it is a testament to the expandability of this particular franchise.
One thing that stands out to me is that while Marvel movies tend over-performed in IMAX theaters, and indeed Wakanda Forever over-performed, getting about 10% of its total box office in the US from IMAX theaters, it was not as big an IMAX as even the most recent Thor or the most recent, Dr. Strange. Instead, this is a testament to the power of this collection of black stars to draw huge young audiences, both black and otherwise, and it's a testament to the ability of this franchise to expand the playing field for blockbuster cinema around the world.
This is the biggest opening in the history of Nigeria. It is likely to be one of the biggest films throughout the rest of Africa. Add to that, the tremendous draw of Tenoch Huerta, the actor playing Namor, the villain in this, and this movie should have legs. Will it eventually get to the same level as the original Black Panther? I don't think so because we're still in the post-COVID, relatively-depressed box office era, and because there's a great deal of competition that will be rolling out over December.
But "Wakanda Forever" seems like another instance of the Marvel Cinematic Universe doing what it does best: getting its fans to show up and getting those fans to tell other people to show up in subsequent weekends."
Latest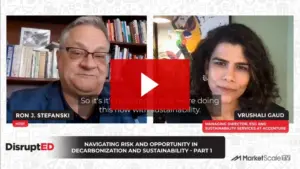 September 26, 2023
The global conversation has shifted dramatically towards decarbonization and sustainability in recent years. With the world experiencing unprecedented levels of disruption, from 5G technology to the challenges of a pandemic, the urgency to address climate change and its implications has never been more palpable. Although most business leaders see the vision of Sustainable Development […]
Read More