Bringing Technology and Live Interaction to MMA
The fans remember the highlights but the franchises remember the technology, data, and inventions that powered their season. Host Tyler Kern sits down with the innovators, leaders and founders that are taking sports into the future.
Mixed martial arts, or MMA, has risen to compete with the established mainstream sports in a fraction of the time it took those sports to reach widespread adoption and attention. But one key difference has separated fighting from traditional sports – the lack of a structured regular season and playoff format.
Donn Davis is working to change this through the Professional Fighters League, set to launch early next year. Davis sees an opportunity to capture some of the market share away from the UFC by making the events more easily accessible through digital platforms, where young fans are currently consuming most of their content, and creating a mobile gambling experience.
The Professional Fighters League will be all in on data and letting fans choose their own experience. The league will be launching an app that lets the fans choose specific camera angles that they want to watch the fight from, as well as making a plethora of data instantly available to let fans know which fighter has the edge or be able to make "prop" bets in real time on stats, such as fastest kick.

Latest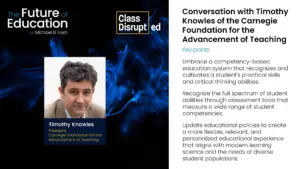 December 4, 2023
What approaches must education take in advancing teaching in a post-pandemic world? How can traditional education reshape itself to include a more dynamic, skills-based learning approach? As educational paradigms shift towards nurturing adaptability and critical thinking, leaders in the field are poised to redefine the learning framework to prepare students for a rapidly evolving […]
Read More