Business Casual: Twitter Bans Political Ads
Twitter CEO Jack Dorsey announced that the social media outlet had decided to ban all political and issue advertisements as of November 22. Is this a wise move in light of the scrutiny Facebook is receiving, or is this a cop out to avoid dealing with the difficult issues of our time?
Hear what Daniel Litwin and Tyler Kern have to say about it on this excerpt from Business Casual.
Tune in to MarketScale Radio LIVE every Wednesday and Friday morning at 9 a.m. CT for Business Casual with Tyler Kern and Daniel Litwin. From interest rates to esports – we'll be talking all things B2B.
Latest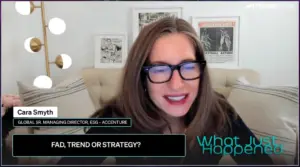 November 30, 2023
The world is in an era where sustainability and responsible retail business practices are increasingly crucial. For the latest episode of "What Just Happened," host Christine Russo further explored the hows and whys of this pressing issue by interviewing Cara Smyth, Global Senior Managing Director for ESG and Responsible Retail at Accenture, and Chair […]
Read More