Though College Athletes Might Get More Creative Input in Independent NIL Deals, They Should Still Indulge in University-Licensed Deals
As student athletes gain increasing rights over their names, images, and likenesses (NIL), they're offered a golden ticket to mold and profit from their personal brands. Which NIL deals are the most fruitful and make the most strategic sense for athletes, though: co-branded deals, or independent deals?
Co-branded NIL deals continue to gain traction as student athletes maneuver the various opportunities offered by NIL. The NIL Store powered by Campus Ink, for example, recently expanded its reach and unveiled the Marquette NIL Store as a dedicated platform for fans to back their beloved Marquette athletes, with a large portion of sales directly benefiting the players. This exclusive store, officially licensed by Marquette University, showcases merchandise from over 150 athletes spanning 12 sports.
Co-branding, where an athlete's personal brand intertwines with their university's emblem, offers a fresh route for monetization, blending individual flair with institutional strength. Independent NIL deals, though, often between a player and a third-party brand, maximize a player's opportunity for ongoing development and expansion for their personal brand beyond their time at their alma mater.
While some athletes might leap at co-branding, others may seek more creative autonomy. As the NIL landscape unfurls, one thing is certain: opportunities are available for those ready to seize them. Does one strategy always make more sense than another? Brittney Whiteside, Vice President of Collegiate Partnerships at Altius Sports Partners. Whiteside is an expert in all things college athletics and college sports partnerships, working previously as Deputy Athletics Director at the University of Virginia, Senior Associate Athletics Director at Appalachian State University, and Director of External Engagement at the University of Missouri.
Brittney's Thoughts on University-Licensed vs. Independent NIL Deals
"When you look at the NIL ecosystem as a whole, right? And when you look at, we talked about Marquette Athletics and our general manager there, that is an opportunity that's available to all student athletes. So when you're looking at that as a whole, that's a great opportunity for the entire athletics department, all the athletes, to be able to engage in the space. Now, individually, you know, athletes will need to look at their individual brand and really determine, like, what the best opportunity is for them to be able to engage in that space. So, you know, I think that's a great opportunity to really determine, like, what the best opportunities are for them. And sometimes you may have an athlete that has a very high profile, a following where, you know, it may also have representation that may, you know, advise them differently. But I do think that it's really important for athletes to engage in this space if the opportunity is available, if they want too as well. And I think it's all part of building their personal brand. And I think some athletes want to have a little bit more control over what that looks like and some of the products that are available. So, you will see some athletes that want more creative control, maybe hesitate to be in this space. But I do think that it does provide opportunities for athletes to really be able to grow their personal brand and the merchandises is a big part of that."
Article written by Adreanna Krell.
Latest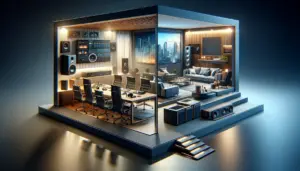 November 27, 2023
In this episode of "Pro AV Today," host Ben Thomas sits down with Audra Kinsley of Sonos Professional to unpack a topic that's causing (sound) waves in the audio industry: the fusion of commercial and residential audio systems. As we navigate through a landscape where consumer and professional audio worlds are increasingly intersecting, Sonos steps […]
Read More