Is It Time to 'Grow or Die' for Streaming Juggernaut Netflix?
Streaming is a gigantic industry in 2021, and it's showing no signs of slowing down. However, a question remains — can legacy player Netflix continue on a healthy plateau to retain its current audience, or does it have to continue growing to survive and thrive?
How will streaming platform competition be guided by investments in media production?
To get insights, MarketScale asked Stephen Lovely, Editor-in-Chief and Co-founder of CordCutting.com, and Allen Adamson, Co-founder and Managing Partner of Metaforce and NYU Stern Adjunct Professor, to weigh in.
Stephen Lovely: "I think [Netflix] can continue on a plateau. Netflix has missed its growth targets a few times in recent memory, including earlier this year, and they've generally still had decent profits in that time. I don't necessarily think that it's a "grow or die" thing.
Obviously, it's always better for a company to grow. But I also think, with Netflix, you're talking about different types of growth — [subscriber growth, domestic growth and overseas growth].
Netflix is going to be able to offset some of its stagnation, if you want to call it that, domestically with growth abroad. I also think it's just going to find new ways to remain profitable. You don't get to be a start-up forever.
For a company like Netflix, creating content is now just a part of the game.
I think this is kind of a natural state for any big company like this. At some point in history, movie theaters were like that, and the Supreme Court stepped in in the 40s. Unless there's an outside force that forces you to not vertically integrate like this, it's just the natural thing you would do, so there's really no reason for Netflix to count on any anyone else coming to the rescue. They have to do all their own content.
So, how much will streaming platform competition be guided by investments in media production? I think almost entirely. I think that's, at this point, a differentiator. That's that's how you get your customers. It's how you keep them. Netflix has done a pretty good job with that, and I think they'll continue to do so."
Allen Adamson: "Netflix must continue to try to grow to survive for two reasons.
One, the number of eyeballs available will shrink post-pandemic — not all the way back to where it was pre-pandemic but, as we emerge from the pandemic, consumers will be consuming less screen time, less content.
If Netflix is not pushing out and trying to appeal to new audiences with new content, they will, by definition, shrink as the pie shrinks.
The second reason is equally important — the competition is fierce between Amazon, Apple, Disney and HBO. If they don't try to produce new, interesting content and grow and attract new users, by definition, their competition will eat their lunch.
So, if Netflix is to continue to grow, the green pasture and the opportunities are in younger consumers, teens and preteens, because that group of consumers still spends the predominant amount of their time on social media, chatting with each other and talking and looking at very short video clips, not consuming existing content or longer form content or consuming as deeply as the older segments.
Going forward, the investment level in media production is only going to escalate. The best content is going to go to the highest bidder, and more and more money continues to be poured into chasing that content.
Content is all that matters in streaming. the best content wins. But, to get the best content, the price is going to continuously go up, because lots of players are competing for the same scarcity."
Latest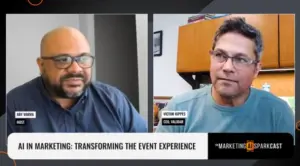 November 28, 2023
AI has been gradually changing the landscape of event technology at a very rapid pace. In an industry where staying ahead of technological trends is crucial, AI's impact on marketing and event management has become increasingly significant. As witnessed in the rise of account-based marketing and enhanced personalization, AI is effectively reshaping how events […]
Read More