Listen: Recruiting Better Players through Better Art with Brett Gemas of UNT's Athletic Department
Who's the most important player on a football team? The quarterback? The running back? Maybe the whole defensive line. But what about…the departments graphic designer? They're often the MVP behind the scenes that helps set a teams brand, image and style. For fans, the perfect logo and merch design can create exposure, loyalty, buzz, atmosphere, and everyone's favorite, attendance. But graphic design can even be a deciding factor, whether consciously or subconsciously, for convincing recruits to join the team.
On today's Sports & Entertainment episode of Wildfire, we're joined by Brett Gemas, Director of Creative Content for UNT's Athletic Department. His journey into the industry was a combination of a love for sports and a passion for art, and he's turned that passion into insight on the power of graphic design for a team, trends in sports design, how he's standing out among his peers, and he even gives some hot takes on UNT's football season.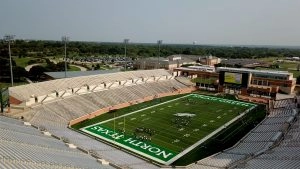 Daniel Litwin: I'm excited to dive into graphic design. It's a profession we haven't explored yet on Wildfire. You know, we've had people from retail, from fashion, from music publications, people in the ed-tech space, but now we're kind of circling back to something a little artsier and finding sort of a utilitarian use for that art. So I'm excited to dive in. And before we get there, I need your one sentence pitch on why you love graphic design.
Brett Gemas: Well, I think, you know, that's a definitely a loaded question, but I think for me personally I think I love graphic design because of the fact that it's always changing. There's always going to be something that you can do as a designer that kind of test your own limits but also try something different. There's always going to be something that you can do to get better. It's one of those professions that definitely is always changing. So whether it'd be the kind of software that you use, the ideas, the trends, whatever the case may be, there's always going to be something that you can try to better yourself with. I think for me, I got a pretty good hold-on static graphics, but I want to try to get into like animated stuff, some motion graphics, video stuff. So there's always going to be something that I could be learning. I think that being in a profession that there's really no peak for what you can learn, I think that's really motivating on a day-to-day basis.
DL: Wow. Love it. I mean that's a long one sentence, but I appreciate the passion for sure.
BG: Oh, yeah. And that's the thing in my mind, you know, at least with dentistry, I was like, "Okay, I'm good at art, I'm good with working with my hands. Dentistry, I'm pretty good at hand-eye coordination and all this other stuff." I'm like, "Maybe I can do something there." And no, not the case. I'm not that great with science and math. I clearly didn't know what I wanted to do at that point, but it was on that tour that my mom said, "You know, you've always been very good at art. You've always loved it. Why don't you look at graphic design?" And I didn't really know anything about graphic design at that point especially from a professional standpoint. I think I kind of viewed art at that time as like the only way you're going to make any money or any kind of career off of art is by being artist and you know always hearing that whole starving artist term, I was always kind of scared off by that. So I thought that I would only be able to have that as a hobby and not really a career path.
So I kind of asked my mom a few questions about it and then started doing research on it, and then lo and behold, I've actually find out that Clemson University has one of the better graphic communication programs in the country. So I was like, "Oh my God! This is perfect. This is match made in heaven."
Congratulations to #MeanGreen C @SAAME_25_1, who was selected to the 2018 @PolynesianFBHOF Player of the Year Watch List! #GMG #TheMGStandard

📰: https://t.co/2PbQ8mCCJx pic.twitter.com/cflMFsnRqe

— North Texas Football 😷 (@MeanGreenFB) August 9, 2018
BG: So when I eventually got accepted into Clemson, started going over there, I knew right away I want to be a graphic com major. But it wasn't until my sophomore year, I remember I was literally walking out of the Orange Bowl after Clemson had just beaten Ohio State in the Orange Bowl in 2014 that one of my contacts that I have within the booster club over there and we saw each other and kind of caught up a little bit, talked about the game, but then he mentioned to me, he's like, "Hey, just to let you know, there's a job opening within the football team." And I was thinking that it was an equipment manager kind of position because my brother had been an equipment manager for Baylor University for four years. So that was kind of his way of staying close to football despite not being able to play it and I knew I wanted to do something like that too.
So that was the first thing that kind of rang in my head. But then he's like, "No, it's actually a graphic designer position." And I had zero point, I mean this is 2014, so not too long ago, I had zero idea that you could effectively utilize graphic design for a football team. So I didn't really know too much about the position going in. I go over there, meet my eventual boss, and he kind of shows me around, talks to me about the operation that they have within the recruiting department and how graphic design is utilized as a very strong and effective tool for recruiting purposes and started the very next day. That was kind of me stepping through threshold into this whole industry of sports design within college athletics.
2️⃣5️⃣ Days left! #BeatSMU #AttackTheDay #GMG #TheMGStandard pic.twitter.com/ejugCmR7Ay

— North Texas Football 😷 (@MeanGreenFB) August 7, 2018
DL:  Yeah, definitely. And how did you manage to find that flow of something being fresh and original in all your art but also focus on an end goal on helping brand, an entire team, an entire school really, you know, really creating that vibe for a community?
BG: Yeah. I think the unique thing with this position was, you know, there's a lot of different creative positions, graphic design positions especially that are popping up in college athletics. Sometimes you have to follow on somebody's footstep. Sometimes somebody has been at that position for X numbers of years and then they left to go to a different school. And so that precedent was set to that he or she left off at that school. With North Texas, when I graduated Clemson, North Texas was just creating this position so there wasn't no precedent that was set before me. There's no one's footsteps I had to follow or anything. So the position was very unique in that sense where whoever step into that role was able to really shape what the visual aspects of the brand are and continue to be.
So that's what really intrigued me about this kind of position was that I'd be the one that really sets the tone with the social graphics, the marketing collateral, the posters, all that kind of stuff. So I thought it was a very exciting opportunity. The first several months of the position, I was kind of giving just free range to try anything. But knowing full well that I wanted to eventually create a look and feel for the North Texas brand and then once I had that look kind of down path after a bunch of different trials, then, you know, I wanted to pick that look and really stay consisted with that.
Greatness awaits.. Who's next? #GMG #F19HTCLUB pic.twitter.com/2knyNb5JVZ

— Seth Littrell (@SethLittrell) June 10, 2018
So once I eventually did, which honestly wasn't too long ago, then I've been kind of working with that look but also trying to make sure everything that I make is new and fresh. It doesn't follow templates. It doesn't do anything like that where it's plugged and chugged or anything. Because although that might save you time, for me, it kind of diminishes the fun in what I do but it also, from a viewer's perspective of that work, they might see it and be like, "Oh, I saw something very similar to that just last week." So I want to make sure that everything that I produce is 100% fresh, it's new, and you know you try to use different ideas and different styles all while working within the look and the feel that you've created. And it is kind of a fine line, but there are definitely ways to do it and to do it in a very fun and cool way.
DL: Definitely. So what has been that look for you? When you got this position and you are now in charge of creating the look for UNT, what were some of the specific things you wanted to bring to the table? Talk to me a bit about some of your intentional design choices and why you made them.
BG: I think with North Texas, you know, it's a unique school because you're in Dallas, you're in the DFW area, then specifically obviously, but DFW in general. There's a lot of different schools just in the DFW area that you got to compete with, SMU, TCU. You go outside of it, you got Rice, you got Texas, Texas-Tech, I mean there's a lot of schools within just the State of Texas that you have to fight with.
The preseason accolades keep piling up for 6⃣. Congratulations to QB @Masonfine09, who was named today to the @SugarBowlNola #ManningAward Watch List!

📰: https://t.co/u6vk2m3sxR#EverythingIsFine #GMG pic.twitter.com/S70v8Wt40Y

— North Texas Football 😷 (@MeanGreenFB) August 16, 2018
BG: So the first thing that I noticed, I guess, about the North Texas brand is green. I mean we're the Mean Green, that's in our name, that's our nickname. So there's something very unique to that where you see obviously Texas is burnt orange, DCU purple and black, Baylor green and gold, SMU blue and red, but we have a very unique color scheme, that vibrant green. So that was the first thing that I really wanted to kind of play with was really trying to set the tone with the color scheme.
So I tried a lot of different all green graphics, maybe stuff with white to like a white background and using green kind subtly and whatnot, but I eventually landed on… I think if you look at some of my work, I think I really like working with a dark background, a dark surrounding with green and kind of glows of white and stuff like that in there because I think it's just really brings out the vibrancy of the color green that we've got.
Truly a blessing! 🦅💰 #F19HTCLUB pic.twitter.com/FhohrtoJzO

— kev 🛸 (@KevinWoodJr_) August 1, 2018
 So that's kind of been the look and feel from a color perspective. But then from a design aspect, there are certain pieces of software that every designer is going to get their hands on. For me, it's a couple different plugins that I have on my computer and I got them while I was at Clemson but was able to really kind of play around with them during my time there and just also in my free time as kind of like a freelancer and there's a couple of settings on there that I really like using. It's almost like where it doesn't matter what the brand is. That kind of setting is kind of a universal thing.
So I really want to utilize that the best of my abilities. So I always include some plugin stuff into my work and it's kind of somewhat of a grungy grainy look to it, but it also really brings out the definition of a subject that you apply it to. So I think using that along with some of the lighting and color aspects of the software, I think I found a pretty good balance in what I want and it allows a lot of creativity, but it also allows a lot of consistency.
DL:  So it's a big home game this year, UNT versus SMU. You think UNT is going to come out on top?
BG: Oh, I mean, you know, I've always been trying to play the PC car with different games. I know both teams are very formidable points and all that kind of stuff. You know what? This is UNT's time. I mean it's a great time to be part of the Mean Green Nation. We've done stuff not just from the football standpoint but from an athletic standpoint. This last year was our winningest year in the last 40 years. I think North Texas are really on the rise and I'm definitely grateful to be a part of it at this time specifically. As it pertains to just football, I mean we've got a lot of players that are coming back from last year. I go to every single practice and I can tell you that they've got something to prove this year. They've been more motivated than I've seen a team motivated before.
It's not just the coaching staff that's leading them but you see players that are taking each other off to the side during drills, always talking each other up, hyping them up, but then also teaching them and critiquing everything from their footwork, their form, their position during a play, all that kind of stuff. Our team is working really hard right now. On paper, everyone stays healthy. Man, I'm like in North Texas, home game, we're going to pack Apogee. It's going to be a great time and I think that's really going to set the tone for the rest of the season where everyone else on the schedule better circle when North Texas comes to play because it's always going to be a very hard game to play for the opponents. But I'm like in our chances, God willingly we all stay healthy and all do what we should be and it's going to be a special season.
Daniel Litwin: I love it. And then another prediction, this one kind of in the spotlight would be UNT versus Florida Atlantic on primetime television, how do you feel about that game? You think that big spotlight is going to be tougher to deliver on? Do you really believe in that passion? You think they're going to bring it?
Brett Gemas: Oh, man, the spotlight is all lights and gimmicks and all that kind stuff. It's not something that you focus on as a player, as a coach, or anything like that. You just go out there every single day and you just play to the best of your ability. So I don't think the spotlight is really going to be any kind of a concern. Obviously, we played against FAU twice, once in the regular season and once in the conference championship and unfortunately lost both of those times last year. But it's a different team, different experiences going into this year and it's a late game in the season this year. So we're going to have a lot of things going for us throughout the season that lead up to it that's going to impact how the game is played.
So on paper right now, man, it's definitely a game that I think even from a national standpoint, it could be one of the better games this season. Both of the teams are very strong. North Texas has something to prove against those guys, but FAU, they're the reigning conference champion so you know they're going to bring it. So it's definitely going to be a great environment. I'm happy that we're playing it at Apogee Stadium up in Denton. It's a night game. I mean it's going to have everything that you want in a football game. So it's definitely going to be something. Even if you're not a UNT fan and just a good football fan living in the Dallas area, just come over to the game because you're going to get a great one.
Wildfire Theme by Green Point Empathy
Featured Songs: 95 & Two for the Show by Space Cadet
For the latest news, videos, and podcasts in the Sports & Entertainment Industry, be sure to subscribe to our industry publication.
Follow us on social media for the latest updates in B2B!
Twitter – @SportsEntMKSL
Facebook – facebook.com/marketscale
LinkedIn – linkedin.com/company/marketscale
Latest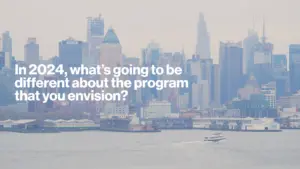 December 1, 2023
In the dynamic telecommunications landscape, Verizon's Partner Network continues to evolve, adapting to new trends and opportunities. For another segment featuring Mark Tina, VP of Indirect Channel Distribution and Channel Chief at Verizon Business Group, he explores exactly what types of significant changes and advancements the Verizon Partner Network will see in 2024. In this […]
Read More