Sports Fans Enjoy Concessions, But Not the Wait. How Might Crowd Intelligence Solutions Change This?
What is the worst part of attending a professional sporting event? Some may argue that it is the crowds and long concession lines. However, that may not be such a headache in the future with crowd intelligence solutions such as WaitTime.  With 59 percent of fans saying they would spend more at the concession stand if their wait time was reduced by 50 percent, according to PR Newswire, crowd intelligence solutions could be the answer to the issue.
How do crowd intelligence solutions work? One crowd intelligence solution, WaitTime, has recently been deployed at Etihad Stadium for the Manchester City Football Club. The new technology is centered around improving the fan experience via data generation for crowd management. One example of how this is put into action is through the concourse digital signage, which helps fans select the shortest concession lines.
What are other potential uses for WaitTime and how does the company see it transforming the customer experience aside from reducing concession wait times? Zack Klima, CEO at WaitTime, discusses advertising and concession issues in the sports industry and use cases for up-and-coming crowd intelligence solutions.
Zack's Thoughts
"Q Management fits into larger operational strategies for live sports venues because it comes down to one simple aspect. Once you know where people are accurately, you can start to define, refine, and also create new revenue strategies based off of where people are. So, for example, advertising, we know with our patented artificial intelligence where people are in the venue, you know, with our cameras, we're able to track anonymously groups of people in certain areas.
Once we know where certain people are or where people are in certain areas, we're able to then programmatically play advertising on screens that are in those areas based off of where people are. So, hire ticket advertisers who pay for, share a voice on certain screens, you're able to then craft revenue strategies around only place certain advertising when it hits a certain amount of people in a certain area. So, you can guarantee that the message is getting out to the numbers of people that you want them to get it out to. That's number one.
Number two is something that's very interesting that we've seen really from the day one of wait. Is portable beer and concession hawkers. So, for example, with our operational dashboard, we're able to tell operations where people are so alert, operational staff when it hits a certain number of people in line, certain density, a certain occupancy.
So that actually has a lot to do with picking off attrition and turning them into sales. So portable beer concession hawkers that, you know, go around the concourse, basically what they're doing now is they're alerting those portable beer concession hawkers to the back of long lines as they form, so magically before someone falls out of that line.
Oh, I have a portable beer concession hawker that is going to stand in the back of those lines where we know they exist because of our software and convert those potential attrition loss sales into sales."
Latest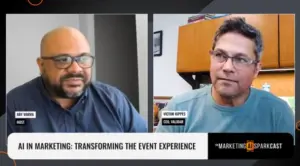 November 28, 2023
AI has been gradually changing the landscape of event technology at a very rapid pace. In an industry where staying ahead of technological trends is crucial, AI's impact on marketing and event management has become increasingly significant. As witnessed in the rise of account-based marketing and enhanced personalization, AI is effectively reshaping how events […]
Read More