The NBA, China and Hong Kong: Between a Rock and a Hard Place
The NBA was presented with a difficult choice when Daryl Morey, the Houston Rocket's general manager and the league's 2017-18 Executive of the Year, tweeted a message of support for protestors in Hong Kong.
Protests began in June against proposals to allow extradition to mainland China and have since escalated. The issue for the NBA is that China represents 10% of the league's annual revenue, according to David Carter, executive director of the USC Sports Business Institute.
By choosing a side, the NBA risks alienating one of its largest sources of revenue and potential growth. On the other hand, the league doesn't want to be seen as an opponent of freedom of speech and expression for its employees.
Daniel Litwin and Tyler Kern discuss the issue and potential ramifications for the league in this excerpt from Business Casual.
Tune in to MarketScale Radio LIVE every Wednesday and Friday morning at 9 a.m. CT for Business Casual with Tyler Kern, Daniel Litwin, and Geoff Short. From interest rates to eSports – we'll be talking all things B2B.
Latest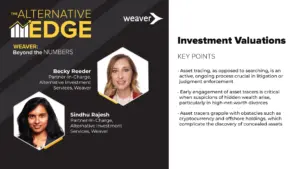 December 4, 2023
In this episode of The Alternative Edge, a Weaver: Beyond the Numbers Podcast, host Becky Reeder, an audit partner and co-leader of the alternative investments practice at Weaver, engages with Sindhu Rajesh, an Alternative Investment Services Partner with Weaver. They unpack the complexities of venture fund valuations, offering critical insights into industry dynamics and best […]
Read More