The Technology Stadiums Need Moving Forward
Welcome to Salary Capped, presented by MarketScale, where we explore the intersection of business and sports. Each week, host Tyler Kern will chat with the leaders, marketers and innovators who are powering sports into the future.
An increased level of communication is one of the key factors sports franchises are utilizing to get fans back into stadiums. The development of in-venue apps helps communicate the most up-to-date information on attending an even and empowers the venue manager to heat map attendees in real time and geofence certain areas of the venue.
This week, host Tyler Kern sat down with Satisfi Labs CEO Don White to discuss how he is seeing the sports and live event industries deploy interactive solutions to reassure fan confidence.
All of the technologies the teams are rolling out, such as mobile ticketing, chat and food ordering, have been around for some time, but what was once seen as a luxury is now a necessity. Satisfi Labs is working on a project to measure fan density in each section of the venue and help fans navigate to shorter lines when possible or through a less-crowded route to their seating area.
One area of stadium technology White is very bullish on is the use of voice technology in team apps. With fans needing increased information and resuming a busier lifestyle, they will want the ease of just using their voice to search for the right answer. Once fans embrace the full potential of the tech, he expects voice commerce to be a major force in the apps over the next 18 months.

Latest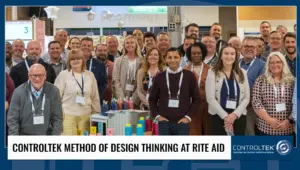 December 4, 2023
The video showcases a dynamic workshop titled "CONTROLTEK Method of Design Thinking at Rite Aid," highlighting the collaborative and innovative efforts between CONTROLTEK and Rite Aid teams. It features scenes of brainstorming, prototype development, and group discussions, emphasizing CONTROLTEK's customer-centric approach to problem-solving and innovation in retail solutions. The workshop demonstrates how cross-functional teams […]
Read More