Univision Announces Merger with Televisa, Forming Spanish-Language Media Conglomerate
Univision announced a merger with Televisa, which comes as a massive announcement for Spanish-language media. What are some of the implications of this partnership, and what impact will it have on the new corporate structure of Spanish-language media?
Voice of B2B, Daniel Litwin, talks with Ivan Parron, Partner of PARRON LAW, who has 20+ years of legal and executive experience in the television, music, motion picture and sports industries. He previously served as an in-house attorney for Universal Music Group, CEO & founder of Ritmoteca.com, the world's first legal source for downloadable Latin music via the Internet.
The duo talked on Marketscale TV about how the merger makes them the largest Spanish-language media company in the U.S. and Mexican market and about the legal implications of this merger and what it means for the corporate layout of Spanish-language media. Latinos now make up nearly 20 percent of the U.S. population, according to the Pew Research Center. Further, they account for 52 percent of U.S. population growth from 2010 to 2019.
"Everything right now is about diversity," Parron said. "There is a vast movement amongst all the media companies, not just Spanish-language, but all the media companies in the United States are really putting a foot forward and huge effort to put diversity in their programming."
This makes a lot of sense for the timing of this merger, and having them join forces gives them a more attractive angle to compete for viewership, and for future potential takeovers. The two companies have had a strong relationship for years, with Televisa requiring Univision to purchase a set amount of content, primarily telenovelas.
"The Spanish-language market for media is very unique. It has many different flavors," Parron said.
Follow us on social media for the latest updates in B2B!
Twitter – @MarketScale
Facebook – facebook.com/marketscale
LinkedIn – linkedin.com/company/marketscale

Latest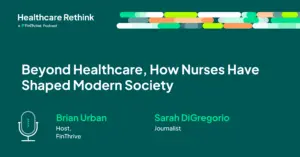 December 4, 2023
Nurses Have Shaped Modern Society beyond healthcare to stand as pivotal figures that transcend their traditional roles, influencing the broader spectrum of societal change. Healthcare Rethink, a FinThrive podcast hosted by Brian Urban, welcomes Sarah DiGregorio, Journalist, Author, and Speake,r to discuss her second book, "Taking Care: The Story of Nursing and Its Power […]
Read More