Spotify Wrapped 2022: What Bad Bunny and Rogan's Success on Spotify Can Illuminate for B2B Marketers
Spotify Wrapped 2022 is officially out for all the streaming heads out there eager to see their year in review. Bad Bunny topped the most streamed artist spot for another year in a row, and for you, marketers out there eyeing podcast content turns out Joe Rogan was the most-listened-to podcast again this year.
It's no surprise that Rogan's podcast was the most popular for 2022, but Voice of B2B Daniel Litwin points out that the real takeaways here come from external research on the most popular podcast content on streaming services. It turns out that most other podcasts take a different approach to finding success.
Here're Litwin's thoughts on what Bad Bunny and Rogan's successes can illuminate for B2B marketers as they work on their next big media campaign.
Daniel's Thoughts on Spotify Wrapped 2022
"What's up, guys? It's Daniel Litwin, the Voice of B2B here to give you some of my thoughts on the recent Spotify Wrapped news. If you're like me, all your friends are posting their top songs, the best ones, the cringiest ones. Mine suck so it's absolutely not going on social media, that's staying private.
But, what I wanted to point out was top trends for most listened to artist worldwide and most listened to podcast. Most listened to podcast was, you guessed it, the Joe Rogan Experience. Now, why is this of note? I think this is an outlier in the larger trend of what kinds of podcasts perform well. Joe Rogan's podcast is obviously incredibly long-form and draws from major guests to spark appeal and to spark hot debate that draws in audiences.
However, if you look at various studies on which kinds of podcasts perform the best, it's shorter, 20 to 30-minute podcasts and it's ones that are either news-focused or music-focused, not necessarily the long-form, off the cuff chatty type podcast that Joe Rogan is famous for. So even though his is performing the best, I wouldn't say it's in your best interest to replicate his podcast for your own small business or B2B marketing strategy, or even just you and your buddies sitting down and chatting sports. It might be fun, but I don't know that it's going to perform all that well.
Now, on the music side of things, the most streamed artist worldwide was Bad Bunny, which I think is very important to showcase the power of the Latinx market for really just all kinds of media success. When you look at the top streaming artist in the US it was Drake. Everyone loves some Drake, right? I did enjoy some of the production on his most recent, weird Lofi House beats album, but Bad Bunny just wrecks him worldwide and continues to perform, now his second year in a row, as the top streamed artist on Spotify. I think it really says a lot about Latin artists and Spanish-speaking markets drawing a lot of power on the international stage for shaping media success.
So if you're a musician, if you're a marketer, whatever it is, you're curating some content and you're trying to decide which markets to feed that content to, you should not discount the larger LATAM market because if Bad Bunny is any indication, there are some worldwide successes for you to tap into.
So those are my thoughts on Spotify Wrapped 2022."
Latest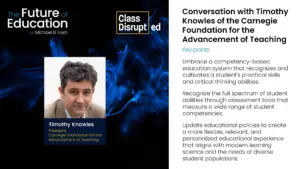 December 4, 2023
What approaches must education take in advancing teaching in a post-pandemic world? How can traditional education reshape itself to include a more dynamic, skills-based learning approach? As educational paradigms shift towards nurturing adaptability and critical thinking, leaders in the field are poised to redefine the learning framework to prepare students for a rapidly evolving […]
Read More