Whose Bears the Responsibility of Improving Gender Equity in Sports Reporting?
3 Key Points:
The sports reporting industry has not done enough when it comes to making the industry more diverse, but the fact that they are measuring diversity hiring is a step in the right direction towards change.
Talk Sporty to Me was created to give sports fans a productive way to talk about their favorite team at work and to give newer sports fans a guide to follow.
It is not on women to bring more women into the sports reporting field,' the industry must examine the biases that it has between its male and female reporters.
Commentary:
The Associated Press Sports Editors Racial and Gender Report Card was recently released and it found that APSE had improved in its racial hiring but it was continuing to struggle in its hiring of women. The study, done by The Institute for Diversity and Ethics in Sport at Central Florida, gave the APSE an "F" grade when it came to gender hiring. MarketScale reached out to sports broadcaster Jen Mueller about the report and how sports reporting, and the sports media industry at large, can improve its gender hiring. Mueller also discusses her company Talk Sporty to Me, and why the same trends inspired the company's creation.
Abridged Thoughts:
When we think about more women and more diverse voices working in sports, it is not on women to get better at this or to bring more women into sports. Now, of course, we should all be helping each other out, right? There is a matter of the rising tide lifts all boats. But what we really need to do is examine the expectations and the bias that comes along with how we get sports. Here's an example. You know, the thing that I don't get to do that my male counterparts get to do, is ask a question that sounds like this. "Hey, what happened in that fourth quarter?" Or, "man, that was a tough game, huh?" My male counterparts do that, and you would be surprised at how often managers and athletes and coaches just respond and give an answer. But when I try to do that, I don't get the same leeway and the same grace.
Latest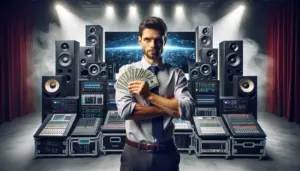 December 8, 2023
Mastering AV sales strategies in a global professional audio-visual (Pro AV) market, poised to reach $79.2 billion by 2028, requires much attention to detail. The surge in demand from corporate, government, and institutional sectors, driven by the need for enhanced productivity and efficient working environments, gives AV sales pros a lot of opportunity. In […]
Read More