Will a Newly Passed California Bill Put the NCAA at Risk?
College sports fans are notoriously competitive about their programs, but the current debate capturing the NCAA has nothing to do with rankings or recruiting.
The state of California recently passed legislation that would allow collegiate amateur athletes in the state to be compensated for their name and likeness, which previously would have disqualified students from participating in NCAA events. Schools, and the NCAA, would not be allowed to punish athletes for accepting such payments, and students would also be able to hire agents.
This law is controversial in many respects, but it could provide a boon to companies near universities. On Business Casual, hosts Tyler Kern and Geoffrey Short broke down what the bill means for businesses and athletes alike.
Latest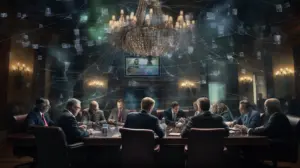 October 3, 2023
In August 2023, the National Institute of Standards of Technology (NIST) put out a request for comments on the Preliminary Update from the Internet of Things Federal Working Group (IoTFWG), which aims to provide the nation direction on how to improve IoT adoption and expand its use cases for the future of industrial, corporate, […]
Read More