Will Connected Fitness Keep Up the Workout Momentum in 2022?
Key Points:
Echelon has a developed a variety of workout equipment to reach wide demographics.
In order to improve on its products, Echelon is looking at new features such as gamification.
Echelon has made its products more affordable to offer an alternative in a crowded and pricy market, but also so it can introduce connected fitness to more consumers.
Commentary:
In-home workout machines are becoming more common as they are becoming more accessible. Echelon is one of those brands who is starting to thrive in the market of bringing the gym inside homes with connected fitness. The company sells bikes, treadmills and even rowers as well as offering fitness classes on demand from the comfort of your home. MarketScale spoke with Echelon Fitness President Alex Kaplan at IHRSA 2021 about how the options they provide for every type of athlete has led to their success and popularity.
Abridged Thoughts:
I think it depends on what you want. If you want fun and relax, you can pick an instructor or a type of music or even a level of competition that's fun and relaxed. If you are a competitive athlete and you want to compete at a higher category, you can choose a different type of instructor or a different level of class. So I think it gives people a choice. I think it gives people the ability to work out wherever they are or sort of at home whenever they want. Echelon fitness is hoping to keep that momentum going by coming up with new ideas.
We are constantly differentiating and innovating with great content. Exciting new instructors were out there. We're going to consider looking at things like gamification, all sorts of new things you can do with the app. But I think what makes echelon particularly exciting is we make incredibly high quality equipment. We're really serving a much broader mass market customer segment. We have connected bikes starting at as low as $500 treadmills, not that much more than that.
More Stories From IHRSA 2021:
Latest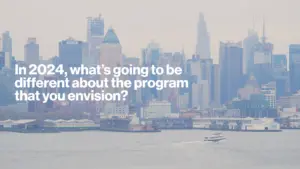 December 1, 2023
In the dynamic telecommunications landscape, Verizon's Partner Network continues to evolve, adapting to new trends and opportunities. For another segment featuring Mark Tina, VP of Indirect Channel Distribution and Channel Chief at Verizon Business Group, he explores exactly what types of significant changes and advancements the Verizon Partner Network will see in 2024. In this […]
Read More