2023 MotorTrend Truck of the Year and Which Five Mean Machines Stack Up
2023 MotorTrend Truck of the Year is in. Five mean machines competed for the 2023 MotorTrend Truck of the Year including the F-150, Silverado, Tundra, Sierra, and Ram 2500. Who was the winner? The Ford F-150 Lightning electric pickup truck won based on six different criteria.
As only the second electric vehicle to unanimously win in a MotorTrend Of The Year competition, what were some of the standout attributes that locked in the title for this machine? Acceleration handling including figure-8 and 60-0 braking, braking with a trailer, and highway uphill acceleration with a trailer are amongst some of the rigorous tests the trucks must endure for the competition. Of note for the F-150 Lightning electric truck were the instant torque, ride, and handling, which were said to be the best-in-class for a Ford truck.
How is the F-150 Lightning electric pickup different from past winners and why is the winning title for this truck such a big deal? Grant Harrell, Transportation & Aerospace Lead at Marketscale, provides some context on the MotorTrend competition and F-150 Lightning electric pickup specs.
Grant's Thoughts
"Hello, this is Grant Harrell. I serve as the head of Transportation and Mobility for Market Scale, as well as host of the, "are we there yet?" video, podcast series, and the 2023 MotorTrend Truck of the Year, are we there yet? Well, yes. In fact, we are today, Tuesday, December 13th, MotorTrend announced the winner of this prestigious award, and the winner is the Ford F-150 Lightning, this incredible EV truck has just been announced Truck of the Year. And it's a big deal. It's a big deal because this is the second year that an all-electric vehicle has been named as a winner within this program. But it's very special for Ford in the F-150 as it's the first time that a vehicle has received a unanimous decision from all of the judges within the program.
This is a big deal for Ford and the truck is, very different. It's an EV truck but it's also you'll find very familiar in many ways as well. MotorTrend describes this as while minis change the world by being different, by being dramatically different others like the F Ford, and F-150 are different where it counts and familiar, where it helps.
And so I think you'll find this with the new F-150 Lightning, A lot of familiar features within the F-150 series. But a lot of differences within this incredible truck as well. So big announcement today from Motor Trend. Congratulations to Ford and the F-150 Lightning Program.
And I very much encourage everyone out there to get to your local Ford dealer and check out or test drive one of these incredible electric trucks. I think that you'll be really impressed. So big announcement today and excited to share this with you."
Latest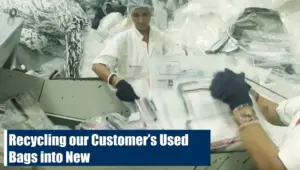 December 6, 2023
This video focuses on EcoLOK4, a groundbreaking product by CONTROLTEK that exemplifies innovation in sustainability. It highlights the process of transforming landfill waste into new deposit bags, with 90% of each bag's material being repurposed trash. This initiative not only reduces waste but also closes the sustainability loop, demonstrating CONTROLTEK's commitment to environmentally friendly […]
Read More