Airports Each Receive Millions in Federal Funding to Revitalize Airport Infrastructure
The Biden administration has recently granted $1 billion to 85 different airports across the country to help develop and expand their terminals and facilities. This grant will be used to increase energy efficiency, promote competition, provide greater accessibility and expand capacity. Airport administrators say this is not only welcomed funding, but a top priority for the U.S.' transportation and logistics footprint.
"The need for infrastructure is worse today than it ever has been," said Tyler Miller, Deputy Airport Director of Corpus Christi International Airport.
Even prior to the huge decline of travel in 2020, airports have faced historic underfunding, making it hard to ensure regular modernization and upgrades. Instead of putting money into increasing capacity, airports have been pressured into using their money towards necessary short-term maintenance.
Airports are struggling to keep up with the newest trends, like real-time bag-tracking information and the touchless passenger experience as they can be expensive to implement.
"Communities and customers really expect airports to be thinking about sustainability and the industry is quickly shifting to electrification and other new technologies," Miller stated.
With the new grant in place allowing airports "a fresh inventory of assets and a fresh stream of revenue to be able to perform capital investments" there has been a number of new resources that will "create jobs, stimulate the economies of communities, and to create new opportunities for new innovation," Miller said.
CCIA plans to put its $1.8 million from the $1 billion fund toward modernizing energy management systems through investments in new generators for heating and cooling systems. The airport also plans to install EV charging stations and update its mother's rooms and service animal areas to meet ADA compliance standards.
"We want to be bringing in these 21st century programs and really preparing for the coming demand and operational needs that the industry will likely be demanding and the community will be expecting us to meet here over the next handful of years," Miller said.
Revitalizing airport infrastructure will have important macroeconomic effects for the local communities they serve, for the larger ecosystem of U.S. tourism and for the construction industry. With this being only the first installment of $5 billion, future growth potential for the U.S.' airports is high over the next five years.
Major airports have been at capacity for a long time. With the recent post-COVID influx of travel, flights are getting cancelled, luggage is getting lost, and lines are out the door. With new funding, airports will be able to speed up their processes and expand the amount of people able to come to the airport daily so that there is better flow and efficiency throughout the entire travel process.
Just a few notable airports that are set to benefit from this grant include Dallas-Fort Worth International Airport, Austin Bergstrom International Airport, Orlando International Airport, Pittsburgh International Airport and Seattle-Tacoma International Airport.
Latest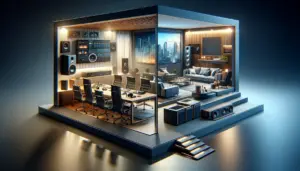 November 27, 2023
In this episode of "Pro AV Today," host Ben Thomas sits down with Audra Kinsley of Sonos Professional to unpack a topic that's causing (sound) waves in the audio industry: the fusion of commercial and residential audio systems. As we navigate through a landscape where consumer and professional audio worlds are increasingly intersecting, Sonos steps […]
Read More