Branded Trucks and Real Estate Businesses Are a Perfect Match
Real estate is all about space. Real estate professionals are in constant competition for properties to buy and sell for clients, and getting their business out front and center in a crowded marketplace is everything.
Scott Bunn, CEO and Sales Master at The Scott Bunn Division of RE/MAX 8 in the New River Valley region of Virginia, understands these challenges and knows how to overcome them.
And one of his secrets, which is a secret no longer, is the use of a branded truck.
Bunn's truck not only attracts clients to his business but is also a retention tool. He provided his insights to CJ Stratte, Marketing Director with On the Move, and host Daniel Litwin, the Voice of B2B.
After a surprisingly phenomenal year in the real estate market in a pandemic-ridden 2020, Bunn said 2021 is quite a different story. There is a lack of properties available for sale, which makes the market tough and the competition even tougher.
But, no matter the real estate climate, Bunn said it still comes down to winners and losers, and the winners are the ones who know how to weather the storm and treat the business as a full-time opportunity.
For Bunn, part of that winning strategy is utilizing all available marketing, branding and advertising resources out there.
"I've looked at what successful people have been doing around the country, and I've duplicated what they've done that I liked," Bunn said.
And Bunn discarded what wasn't working. One of those things working for Bunn: his branded moving truck. "I decided to be everywhere, and a moving truck was a component of that. There were so few people doing that, and I could see that those across the country who were doing that were probably in the top three of their community."
And Bunn's truck not only gets his business's name out in front of prospective buyers and sellers; he loans the truck out to his clients when needed. It's an innovative approach to extending his brand beyond normal marketing.
Follow us on social media for the latest updates in B2B!
Twitter – @MarketScale
Facebook – facebook.com/marketscale
LinkedIn – linkedin.com/company/marketscale
Latest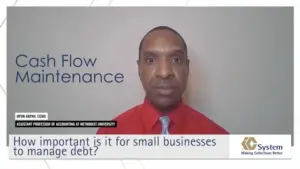 December 8, 2023
Effective debt management through a robust accounts receivable system is essential for small business cash flow and growth, necessitating automated payment schedules and strategic policy adjustments. Collaborating with a collection agency as a strategic partner can enhance revenue recovery while preserving positive customer relationships. How critical is effective debt management for the financial health […]
Read More