Getting Technical: What Will the Commercial Space Market Look Like in 2022?
The pandemic may have halted many industries from growing, but that is not the case for the commercial space market. Jason Riggs, Director of Strategy at Technetics, discussed the market's future for 2022 with Host Tyler Kern.
Recently, propulsion and launch vehicles have made an entrance into the market, and private funding and public funding are both fueling investments. 3D printing and design stability have helped create cost efficiency and standard designs, which are essential for ensuring continuity of supply.
There is also need for nations to lift national security payloads like communication satellites as the hunger for data and connectivity become more important. Large constellations will fuel connectivity by providing internet to the 50% of the world that lacks connection. The cost and size of communication satellites has been drastically reduced, allowing more to be in orbit.
Companies such as AST space mobile, Astranis, Amazon project Kuiper and SpaceX are taking part in the rush to launch more satellites. "That space launch service market is expected to grow at around a 13 to 14% CAGR, putting the market size at over 26 billion by the year 2027," said Riggs.
In terms of future innovations, aviation fuels, hybrid electric aircraft, hydrogen aircraft, sustainable supersonic aircraft and all-electric aircraft makers are on the rise. The industry is starting to see use of hypersonic missiles that travel at five times the speed of sound and deliver conventional and nuclear payloads anywhere in the world in minutes. Riggs explained the role of Technetics: "Our goal is really to develop and acquire technologies that will allow us to help drive these markets forward, not just chase them."
For more information on this topic, subscribe to the podcast on Apple iTunes or Spotify and visit the Technetics website.
Latest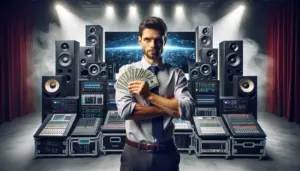 December 8, 2023
Mastering AV sales strategies in a global professional audio-visual (Pro AV) market, poised to reach $79.2 billion by 2028, requires much attention to detail. The surge in demand from corporate, government, and institutional sectors, driven by the need for enhanced productivity and efficient working environments, gives AV sales pros a lot of opportunity. In […]
Read More