Perception and Prediction: How Autonomous Vehicles Utilize Racetrack Strategies for Safer Urban Transportation
COAST Autonomous has one mission: to keep people and businesses moving safely. Leveraging a portfolio of proprietary, best-in-class technologies and sensors, COAST offers a variety of efficient, cost-effective, ready to deploy low-speed self-driving fleets that safely move passengers and goods over both the first and last mile.
Hosting special guests to discuss unique topics surrounding autonomous vehicles and self-driving technologies, on this second segment in a two-part episode of the Connected with COAST Autonomous podcast series, COAST President Adrian Sussmann and CTO Pierre LeFevre sit down with two accomplished British racing car afficionados—three-time 24 Hours of LeMans champion Allan McNish and three-time Indianapolis 500 winner Dario Franchitti—to focus on the topics of perception and prediction in driving on the racetrack versus city-center roads.
In professional racing, drivers rely on perception—a 360˚ view of what's all around them—in order to predict well in advance what moves they must make during a race.
With average speeds in the Indianapolis 500 that run between 220 to 230 miles per hour, this is easier said than done.
"You have to focus a long way in the distance to give your brain the time to process what you're focused on," Franchitti said. "If you look to closely in front, you simply cannot process it, no matter how much you practice. So, you focus further ahead. But then you've got to be doing scanning, as well. You're constantly doing all these different scans as far as almost half a mile away. You're looking as far as you can and then bringing that focus back up a bit more, maybe looking down a bit, up again, side to side. You're having to process all these visual cues that you're getting, as well as driving the car, as well as making the calculations in your head about risk assessment. I think driving on the track is a much different thing than driving on the road."
"What we (regular drivers) do, we narrow down our view. But as a racing driver, you clearly have to have more of a 360˚ view of what's going on. Therefore, your peripheral vision is extremely important. The wider you can see, the more information you can take in," McNish said. "All in all, it is a completely different picture to what you would naturally see on the road purely because of that excessive speed, but the skillset is still the same."
McNish also pointed out that in racing, drivers are focused on the track and other drivers, but they don't necessarily have all of the distractions that normal drivers are confronted with—radios, phone calls, pedestrians, parked cars, etc.
And because the typical driver—even race car drivers—are fallible, not fully concentrating on the potential hazards as they travel from point A to B, Franchitti and McNish both feel that it may actually be more dangerous driving in urban settings than it is on the racetrack at high speeds.
That's where AV solutions can really make a difference. Enabling passenger mobility in low speed environments (campuses, cities, airports and more) minus the distractions that increase the risk of automobile accidents, autonomous vehicles also help reduce pollution and traffic congestion while opening up more city-center space for development.
Bringing thought leadership to your day, MarketScale hosts industry experts so that you stay informed of the newest trends, events and beyond in B2B. Follow us on social media for the latest updates in B2B!
Follow us on social media for the latest updates in B2B!
Twitter – @MarketScale
Facebook – facebook.com/marketscale
LinkedIn – linkedin.com/company/marketscale
Latest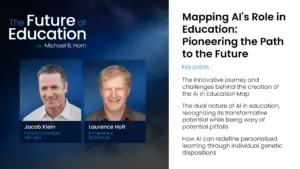 October 2, 2023
Mapping AI's role in education should be a critical step in bringing together innovative technology-based solutions with the expertise of human educators. With rapid advancements in artificial intelligence and an increased reliance on technology-driven educational solutions, the education landscape is on the brink of a significant transformation. AI promises highly personalized learning experiences, efficient administrative […]
Read More