How Is a 'Wild West' Housing Market Creating Moving and Inventory Challenges?
The housing market's recent boom shows no signs of slowing down. While the uptick in prices has been a boon for some, it's presented tremendous challenges for many looking to navigate it.
Chiefly, higher housing prices and a general "Wild West" atmosphere have led to material shortages and price hikes, as well as significant obstacles for professional realtors looking to help clients buy or sell homes.
Add in supply chain disruptions over the past year and a half, and you've got a recipe for a "survival of the fittest" landscape.
To dig deeper into the challenges facing the real estate industry and how professionals can work to adapt, host Daniel Litwin was joined on this episode of Impressions from On The Move by On The Move Marketing Director CJ Stratte and industry veteran Marisa Ann Cortez, who has spent more than a decade in the industry and currently sells homes in the San Antonio, Texas market.
So, in the face of high-priced materials, marketplace chaos and more, what can realtors and their clients do?
"We have to kind of reassure our local buyers that this is it. Take advantage now with the low interest rates, because inventory is coming," Cortez said. "It's really hard to tell our clients to wait, because they get impatient. … But we have to just keep reassuring them that the prices are not going to go lower. If they see something they like, they just have to be well-prepared."
Follow us on social media for the latest updates in B2B!
Twitter – @MarketScale
Facebook – facebook.com/marketscale
LinkedIn – linkedin.com/company/marketscale
Latest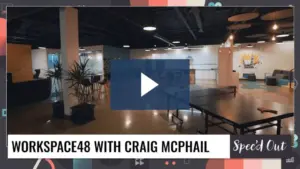 October 3, 2023
The conversation around modern workspace innovation has recently become more pertinent as organizations seek to adapt to new-age working conditions, accelerated by the global pandemic. Challenging the conventional workspace models pave the way for more flexible, efficient, and technologically driven solutions. According to a survey by the Pew Research Center, about 54% of adults […]
Read More