Is Ford's Promotion Spree Enough to Appease Labor and Meet EV Production Demand?
Key Points:
Ford's promotion spree has seen hundreds of part-time workers promoted to full-time status.
Many are trying to figure out why Ford made the decision ahead of their UAW deadline.
The promotions seem to be a result of auto industry strikes and the labor movement.
Commentary:
Ford has recently promoted hundreds of their part-time auto workers to full-time workers. This promotion of autoworkers came before the deadline both Ford and United Auto Workers agreed upon. With a decision almost out of nowhere, many might ask, what does Ford have to gain from doing this? Is this because we are seeing many auto workers across the country strike and ask for better working conditions. We asked Joshua Murray, an Associate Sociology Professor at Vanderbilt, what could have gone into this decision and if those strikes played a factor.
Abridged Thoughts:
Ford's promotion spree of hundreds of part-time auto workers to full-time workers ahead of its contractually scheduled agreement with the UAW directly results from an intersection between recent auto industry strikes and the labor movement pressure. And Ford's extension into electric vehicles and planning to build a plant in Tennessee just recently approved nine million to help them build that plant. The reason is because electric, their electric vehicle plant, and the battery supplier that's going to be right next to the plant is—using what's known as just in time delivery, which requires that the supplier in case batteries is right next to the Manufacturer and everything that they need is in the same small area. But this gives workers an incredible structural leverage, right?
More Stories Like This:
Latest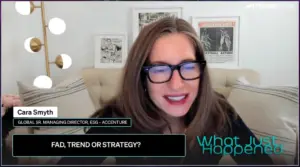 November 30, 2023
The world is in an era where sustainability and responsible retail business practices are increasingly crucial. For the latest episode of "What Just Happened," host Christine Russo further explored the hows and whys of this pressing issue by interviewing Cara Smyth, Global Senior Managing Director for ESG and Responsible Retail at Accenture, and Chair […]
Read More