Will Car Makers Shifting to EV Production Create More Jobs?
Keypoints:
The car market industry is primed for a major shift to EV production.
Volkswagen CEO Herbert Diess warns his company could lose 30,000 jobs if they transition slowly to electric vehicles.
Electric vehicles are more mechanically simple, leading to quicker assembly and reducing the need for regular service.
Commentary:
The CEO of Volkswagen, Herbert Diess, is warning that his company could lose 30,000 jobs if they transitioned too slowly to electric vehicles. Diess allegedly told a supervisory board meeting that one of the driving forces in his viewpoint is Tesla's entry into the German market. As the car market is primed for a major shift, how does this impact the manufacturing process? Could shifting more to EV production provide more jobs? We asked Vitaly Golomb about the manufacturing process when it comes to EVs, and this is what he had to say to MarketScale's Daniel Litwin.
Abridged Thoughts:
Although I don't have the research that pegs exact numbers, we do know for sure electric vehicles are much simpler mechanically, and that is a major driver. Internal combustion vehicles have 200 plus moving parts, where EVs only have about 10 percent of that. That makes the assembly of vehicles much faster once OEMs gain experience in efficient battery pack construction. 
Many top-tier internal combustion engines and drive chain suppliers already see the writing on the wall and are moving fast to reorient their businesses to produce parts for EVs. Some are even getting into battery pack assembly, which is a core function for their OEM clients. EVs also need much less service, so you will see businesses like oil changes and car mechanics shrink tremendously. Also, most EV owners do most of their recharging at home. 
More Like This Story:
German Car Producers Have Cut Production, Will This Cause a Speed Bump in the Economy?
Can Intelligent Systems Give Auto Leaders A Fresh Business Model?
Latest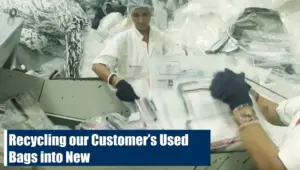 December 6, 2023
This video focuses on EcoLOK4, a groundbreaking product by CONTROLTEK that exemplifies innovation in sustainability. It highlights the process of transforming landfill waste into new deposit bags, with 90% of each bag's material being repurposed trash. This initiative not only reduces waste but also closes the sustainability loop, demonstrating CONTROLTEK's commitment to environmentally friendly […]
Read More