New York Takes Over Title as US City with the Worst Traffic
When you hear about a city with the "worst traffic in the U.S.," you likely picture Los Angeles and its endless seas of brake lights, which go from rage-inducing during normal periods to downright torturous during high-travel times.
However, LA is no longer No. 1 in terms of gridlock.
The Texas A&M Transportation Institute recently released its 2021 Urban Mobility Report, and another metro area wrested the title from La La Land for the first time since 1982.
According to the study, the New York-Newark region has the worst traffic in the U.S. based on the total number of hours drivers spent delayed or stuck in traffic. New York-Newark clocked in at around 494,000 hours in 2020, while Los Angeles-Long Beach-Anaheim had a surprisingly low 365,000 hours. New York-Newark also topped the study for average number of hours a driver spent in traffic in 2020, averaging 56 hours.
The bigger picture, though, seems to point to COVID; nothing was immune to its world-shaking effects. Traffic congestion, as the study's authors explain, dropped off by almost 50% during the spring of 2020, which makes New York's traffic explosion all the more intriguing.
In the study's press release, Marc Williams, Executive Director of the Texas Department of Transportation, broke down what he sees as the future for this congestion trend in general.
"Congestion levels in Texas and much of the rest of the country have rebounded to near pre-pandemic levels," he said. "In Texas, we continue to see the same underlying causes — a growing population and economy that is producing more passenger vehicle and truck traffic on roadways throughout the state."
What does this mean for the future of New York's transit investments as the city's economy rebounds? Can street congestion be addressed without a holistic revamp of New York's public transit to get people off the roads, and will this level of congestion continue if in-person work returns at scale?
Latest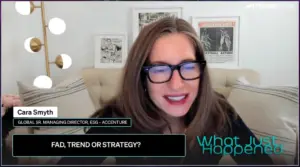 November 30, 2023
The world is in an era where sustainability and responsible retail business practices are increasingly crucial. For the latest episode of "What Just Happened," host Christine Russo further explored the hows and whys of this pressing issue by interviewing Cara Smyth, Global Senior Managing Director for ESG and Responsible Retail at Accenture, and Chair […]
Read More