Ridesharing Orgs Look to Boost Security around Sensitive Data
Data is everything these days, but it's also extremely sensitive. In the wrong hands, your personal information can come back to have a powerful negative impact.
So, how are ridesharing organizations like Uber and Lyft taking care of that data and boosting their security to ensure breaches don't occur?
MarketScale data guru TC Riley weighed in.
"It's a great question – whether American rideshare companies are going to have to kind of change some of their data policies and some of the issues you've seen pop up with and use cases around exposing sensitive government data.
I would generally say yes. If you look at what's going on with some of the biggest ones in China right now, there have been all types of issues, as well. There will be changes in the way that you are able to process data, the way that they capture and store that data, and the way that the data is accessible.
Or, you can request to have it deleted to be 100% compliant.
However, I think there are bigger privacy changes that will actually make significant impacts. Things like the little leaks we've had about government data will create some little isolated silos that Uber and the like will create within their environment to prevent those specific accounts or company accounts or whatever the case may be from being intermingled with the rest of their data and, quote unquote, keep it safe.
But I think it's actually just a Band-Aid. I think they're going to have a much larger data integrity and structure and storage and retention issue driven by privacy laws that will really change the way that they store, process and maintain that data."
Follow us on social media for the latest updates in B2B!
Twitter – @MarketScale
Facebook – facebook.com/marketscale
LinkedIn – linkedin.com/company/marketscale
Latest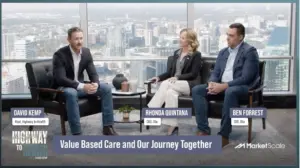 December 7, 2023
As of recent times, the healthcare industry has been progressively shifting towards value-based care, a model that emphasizes patient outcomes over the quantity of services delivered. This transition represents a significant shift that promises to enhance patient experiences and outcomes while controlling healthcare costs. With a growing emphasis on this approach, especially over the […]
Read More