Subway's Electric Vehicle Chargers: The Sustainable EV Solution for QSRs?
Subway is sparking change in the fast food industry with their plans to electrify their parking lots. In a statement made in late February, Subway said that it plans to partner with Florida-based EV charging infrastructure company GenZ EV Solutions to add electric vehicle chargers at select locations this year. The larger goal for the sandwich chain is introducing the concept of Subway Oasis: a charging station with multiple ports, picnic tables, Wi-Fi, restrooms, green space, and playgrounds. But is this a sustainable solution for QSRs moving forward? What lessons can the QSR industry take away from Subway's electric vehicle chargers?
The proposal is an intriguing one, as QSRs could generate revenue from the chargers while customers dine at their restaurants or wait in their cars as they charge. Subway believes it can use its "unmatched footprint" to create a network of EV charging stations, but customer demand for EV charging will help navigate many of the decisions. Subway's franchisees operate at least 21,000 sandwich shops in the US, and the company will begin rolling out smaller format EV charging stations at select remodeled locations as a pilot project this year.
Subway's efforts to create a national network of electric chargers at its locations come at a time when more Americans are trading their gas-powered vehicles for EVs. According to GenZ Charging Solutions' CEO Jose Valls, equitable access to charging is therefore "essential to the adoption of EVs in the future and Subway's scale will play an important role in democratizing charging infrastructure for millions of Americans."
Clyde Boyce, chairman of the advisory board at EV Chargers and Installation, LLC, weighs in on Subway's electric vehicle chargers and sheds light on what we can expect from this move for the larger QSR industry. He highlights potential customer behavior changes and questions the charging capacity of the infrastructure, reminding us to wait and see how this test goes before jumping to early conclusions.
Clyde's Thoughts
"Quick discussion about Subway adding chargers to their locations. There are many things that we still don't know about this operation. First of all it says in select locations. So I would suspect those that are in strip centers and connected to convenience stores and banks and other types of operations probably won't be getting the chargers. So it's probably mostly the standalone stores that you'll see these chargers.
The second thing is they don't tell you what level of charger they're going to install. So it could be level two, it could be fast chargers, we just don't know yet. What it does do is it changes the customer opportunity at the store in regards to time they spend, the average customer spends about 15 minutes in a subway now which means the vast majority probably don't sit down in the restaurant and eat. The new restaurants with the chargers would obviously require you to stay a little bit longer to get a nice level of charge, and they're going to add what they call Oasis locations, which are smaller locations that have chargers, they have outdoor seating, they have gyms for the kids to play, things like that.
So that's going to give them more opportunity for a longer stay. But that's announced for the longer term. And they haven't said how many of these locations, how big they are or where they're going to be. So let's just wait a few minutes before we claim that Subway is doing something that is innovative and is absolutely going to be successful. This is more of a test, we'll see what happens."
Article written by Azam Saghir.
Latest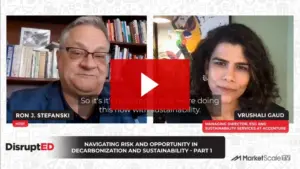 September 26, 2023
The global conversation has shifted dramatically towards decarbonization and sustainability in recent years. With the world experiencing unprecedented levels of disruption, from 5G technology to the challenges of a pandemic, the urgency to address climate change and its implications has never been more palpable. Although most business leaders see the vision of Sustainable Development […]
Read More