The Ford Maverick Speeds Past an Early Milestone
The Ford Maverick doesn't hit the roads until 2022, but that hasn't stopped it from speeding past a milestone.
The CEO of Ford, Jim Farley, announced the new hybrid truck has surpassed 100,000 pre-orders. We wanted to ask car expert and freelance writer Christopher Tepedino: What makes this particular truck so attractive to consumers, and how should Ford leverage that enthusiasm?
More Thoughts from Christopher Tepedino
The enthusiasm surrounding the Ford Maverick really comes down to one thing: supply and demand. In the hybrid or electric vehicle marketplace, there have been very few options for larger vehicles that can move cargo or handle rugged terrain.
Trucks, especially hybrid and electric vehicle trucks, are relatively new to the marketplace, with a few companies — including Ford — rolling them out this fall 2021 or spring 2022 season. The hybrid and electric vehicle industry has been excited about this because it taps a segment of the market that hasn't had those options yet.
In our article about the 10 Most Popular Electric Vehicles in the past three years, there are seven cars, two SUVs, and one hatchback, which are not great for moving cargo or handling really rugged terrain. Even if you look beyond electric vehicles and just to hybrids, there are few hybrid truck models out there.
People who want a hybrid and electric vehicle may not buy it because the models out there, mostly cars and some midsize SUVs,  don't suit their lifestyles. Someone who lives in a rural area and needs to move cargo or deal with rugged terrain needs that truck as part of their daily lifestyle. So you have a lot of people that want these model options — and the tax credits from the federal and the state governments — but haven't had the opportunity to buy one since the models don't really exist.
To continue the momentum, Ford needs to pump and pump on social media, get the word out there, do interviews with publications, and basically say, "Hey, look, we've got this new and exciting product." They can emphasize that it can carry a standard load and that it's relatively cheap, starting at $20,000.
Other companies are already thinking the same way and a few have plans to release their own trucks, these being fully electric, in the fall of this season or the spring of next season. Ford is actually creating a completely electric Ford F-150 that's going to cause a stir when it's released.
So the market for electric vehicles is expanding, more options are being offered, and more segments of the consumer base are getting hit. This is going to be great for the industry, with more people buying hybrids or electrics that appeal to their sense of style, budget, or personal needs. This could lead to more electric vehicle infrastructure, like charging stations, being created in rural states and reduce emissions in the future.
Chris Tepedino is a feature writer who specializes in determining the cost and safety of various vehicle brands at BuyAutoInsurance.com.
Follow us on social media for the latest updates in B2B!
Twitter – @MarketScale
Facebook – facebook.com/marketscale
LinkedIn – linkedin.com/company/marketscale
Latest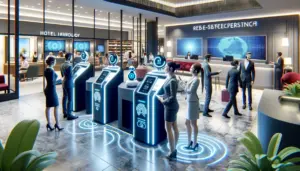 December 8, 2023
Facing critical staffing shortages, over 80% of hotels struggle to fill positions despite offering higher wages and flexible hours, as reported by a recent American Hotel & Lodging Association survey. While slightly improved since May 2022, this situation highlights a significant challenge in the hospitality industry, with housekeeping roles being the most urgently needed. […]
Read More