Transportation Trends Pushing OEMs into New Mobility Territory
"You have the ability to include an array of new technologies into vehicles, which changes the dynamics, not only of how you're manufacturing the vehicles but how it's positioned in the market."
On this episode of MarketScale TV, Voice of B2B Daniel Litwin guides us through a state of the industry for transportation and auto manufacturing, as demand and trends toward mobility solutions push OEMs into new territory, and as significant news around rideshare data has the industry rethinking its relationship with data.
Giving insights on this episode is Michael Davies, CFA, Co-Founder, CEO & Chief Data Scientist at Green Econometrics, a research think tank providing economic analysis and analytics for sustainability and process improvement.
A more holistic definition for mobility that takes into account last-mile, cross-country, green, and public transit mobility isn't a new idea, but what is increasingly evident is that automotive manufacturing companies are having to make mobility a core tenet of their business model, expanding their reach beyond just an OEM. As the transportation industry evolves and companies' roles expand, manufacturers will need to think outside the box to compete & differentiate on this wider "mobility" front.
"So many things are changing, and the OEMs are in a position of real flux," Davies said. "For example, when we look at this industry, we look at a couple of themes, such as energy and infrastructure. You have the ability to introduce themes such as subscription-based models. You have the ability to include an array of new technologies into vehicles, which changes the dynamics, not only of how you're manufacturing the vehicles, but how it's positioned in the market."
Litwin and Davies expand on BMW's recent success in the luxury car market to understand how the brand has pulled ahead even with a global chip shortage, and how much is due to its investments in mobility solutions. The two also intersect how autonomous driving is disrupting the industry and OEM's investments. Even though overall solutions remain around Level 2 autonomy, AD-enabled vehicles have introduced new benefits to fleet managers as idle vehicles go from depreciating assets to productive assets, presenting expanding business opportunities for OEMs.
Latest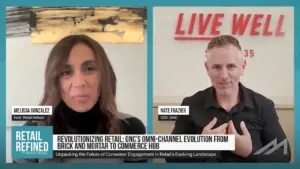 November 29, 2023
The transformation from a traditional brick-and-mortar store to an integrated commerce hub is crucial in the fast-evolving retail landscape. GNC's omni-channel evolution epitomizes this shift, blending in-person and digital experiences to meet the contemporary consumer's demands. But what does this mean for the future of retail? "Retail Refined," hosted by Melissa Gonzalez, welcomes Nate […]
Read More