Turo is Scaling its Business Model. Can its Insurance Offerings Keep Up?
Turo, the decentralized gig-style car rental platform, has been drawing a lot of attention from investors and car-owners alike since the start of summer. Many have referred to Turo as the "Airbnb of cars", with the platform boasting 450,000 listings across the U.S. and Canada, allowing renters to book vehicles directly from their owners.
"Unlike traditional car rental companies, Turo does not own a fleet of vehicles," says Laura Adams, insurance and finance expert with Clearsurance.com. "The service they provide is an online platform where private car owners rent their cars. That means Turo's overhead is relatively low compared to the competition."
One of the biggest questions about Turo moving forward is about insurance for both the renter and the rentee. "Turo takes a percentage of the rental income, such as a range of 10-40% based on the insurance coverage that a car user chooses, such as premium, basic, or minimum coverage," says Adams. "So, the insurance that a guest chooses is a significant factor in Turo's revenue model."
More Thoughts From Laura Adams
Turo is an innovative peer-to-peer car-sharing marketplace with a revenue model linked to its insurance offering. It has an impressive user base across the US, Canada, and the UK, with more than 14 million users in 5,500 cities.
Turo allows private car owners to rent out their vehicles via a website and mobile app. Then guests can choose from a selection of more than 850 makes and models and reserve time slots.
Users can rent a vehicle to get from point A to B or test drive a particular vehicle model that they're interested in buying at affordable rates. Then car owners or hosts earn income that offsets the cost of car ownership.
Insurance is required for everyone who uses the Turo platform, including hosts and guests who rent cars. And Turo takes a percentage of the rental income based on the insurance coverage that the user chooses. So, the insurance offering is a significant factor in Turo's revenue model. In the US, Turo offers hosts up to $750,000 in third-party liability insurance from Liberty Mutual.
The level of protection hosts get for physical damage or theft to their vehicles varies depending on the revenue plan they choose. There are five plans offering reimbursement for car repairs, up to the vehicle's cash value.
Turo does provide the option for hosts to opt out of its insurance program entirely and buy their own commercial auto insurance policy. With this option, Turo only keeps 7.5% of the amount guests pay.
If Turo continues expanding into new cities, it's possible that their insurance offering wouldn't be sustainable as they scale. For instance, if small car-rental companies rather than individuals own more cars on the platform, Turo's revenue could decline.
Latest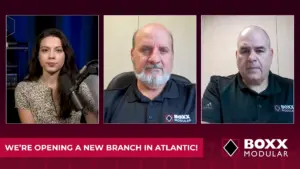 December 4, 2023
In an era where construction innovation is reshaping the industry, modular construction's growth continues to rise. In this episode of Built Modular, Boxx Modular's strategic expansion into Moncton, Atlantic Canada takes center stage. Host Gabrielle Bejarano welcomes Charles Landry and Ray Girouard to explore the implications of this venture. Bejarano, Landry, and Girouard discuss […]
Read More