UAW's Strike and Tentative Deal Pose an "Existential Struggle" For the Auto Industry
Amidst the current labor disputes in the automotive industry, how can unions like the United Auto Workers balance their demands with the automakers' need to stay competitive in the rapidly evolving electric vehicle market? 
In a landmark labor movement, the United Auto Workers (UAW) secured a significant contract victory with General Motors after a 46-day strike, marking a resurgence in union power reminiscent of the New Deal era. Despite some internal divisions, the new contracts offer substantial wage increases and improved conditions, signaling a potential shift in the automotive industry's future labor dynamics. 
The UAW strike impacts transportation automakers like Chrysler, GM, and Ford is a reflection of a broader labor movement gaining momentum across the United States. This movement is emboldening unions to demand better benefits and pay.  
Automakers, on the other hand, are under pressure to remain competitive, especially against non-unionized rivals like Toyota and Nissan, who are rapidly advancing in the electric vehicle market. The struggle is not just about wages; it's about the future direction of the automotive industry and its workforce. As negotiations continue, all eyes are on how these two forces will reconcile their differences.  
Unpacking the complexities of the strike, we seek insights from Craig Austin, Associate Teaching Professor in the Department of Marketing & Logistics at Florida International University, known for his expertise in marketing and logistics within the automotive sector.
Austin offers a nuanced perspective on the delicate balance between union demands and the automotive industry's push towards electric vehicles.
"The automakers are more nervous because they don't think they can afford a 40% pay hike across all workers, and also they want to produce more electric vehicles and be more nimble in competing with non-union automakers such as Toyota and Nissan who don't have union workforces in this country," Austin said.
Article written by Janelle Bombalier
Latest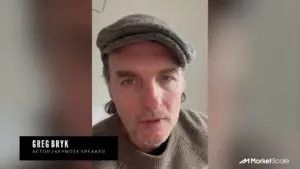 November 30, 2023
In a crowded marketplace, authenticity could be the strongest differentiator in standing out from the competition. Actor and Keynote Speaker Greg Bryk shares his insights on making a mark, on-screen and in the B2B arena. Bryk emphasizes the power of authenticity over pandering to the audience. He explains, "The way to stick out from […]
Read More