A Fan-Centric Experience Could Make Tech-Based Golf Leage TGL Prove To Be a Hole-In-One
The golf world has a new league entrant: the TGL. What makes it unique, and what gives it a competitive edge to compete with the likes of traditional golf tours?
The new tech-based golf league is meant to drive golf forward to the green, according to founders Tiger Woods and Rory McIlroy. The TGL is especially unique because it will use state of the art technology to allow fans, whether they're sitting on the green or watching from their couches, to get a close view of the virtual course and short game area.
The league is the first big venture of TMRW Sports, which was founded in 2021 by Woods, McIlroy and former NBC Sports exec Mike McCarley. It's funded by several major players in the sports world, including investors like Golden State Warriors star Stephen Curry, Falcons owner Arthur Blank and Bears CEO Kevin Warren. Even Justin Timberlake is in on the action.
The TGL is set to start in January 2024 and will feature 18 players made up of six teams of three PGA tour players who will compete in a match of 18 holes. The TGL season will consist of 15 matches in all, followed by playoffs and a championship. Woods and McIlroy are betting big on the TGL, but will the league actually bring more fans and pros to the game with its tech-centric fan experience approach? Tod Caflisch, Sports Technology Services Consultant at TechFoundry, believes it's got a pretty good shot.
Tod's Thoughts
"The interesting part is that fans will actually be sitting greenside, and the other remote fans will actually be watching through streaming apps. The neat part is the combination of the virtual course with the short game. Now, I think the interesting part is where you have that celebrity interaction there and involvement. It's gonna bring a lot of people in that'll be curious about watching that, as well as I think it's gonna actually drive more to be mainstream. As the league grows in popularity, it expands, more teams join. I can absolutely see more of these facilities start to pop up all over internationally, as well as the U.S.
So, from a fan experience, I think it really brings the fans more into the game, especially the short game. I think that a lot of people are really comfortable playing. So, look for that. A lot of stuff will be in the news, I'm sure, between now and January. Especially if you're a golf fan, fire it up on your app coming up this January."
Article written by Adrienne St. Clair.
Latest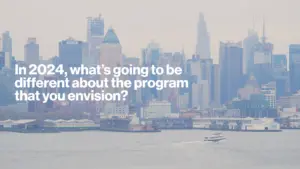 December 1, 2023
In the dynamic telecommunications landscape, Verizon's Partner Network continues to evolve, adapting to new trends and opportunities. For another segment featuring Mark Tina, VP of Indirect Channel Distribution and Channel Chief at Verizon Business Group, he explores exactly what types of significant changes and advancements the Verizon Partner Network will see in 2024. In this […]
Read More