As Gas Prices Fall, E&Ps Encouraged to Keep Production Levels High
Heightened gas prices, grocery prices, and the rising costs of most essential goods have become a very real challenge for many Americans, with the CPI increasing 9.1% year-over-year in June. Inflation has also caused producer concerns as supply chain issues persist, supplier contracts become more expensive, and rising prices lessen demand.
However, recent AAA reports show the nation has seen a noticeable drop in gas prices, with the national average going below $4.50 and several southern states like Texas, Georgia, Oklahoma and Alabama locking in averages below $4. This dramatic drop is continuing as the national average has been dropping each day and is currently down nearly 16% since mid-June. As global crude oil production stabilizes and hopefully remains stable, this trend is predicted to continue so long as there is no surge in oil prices.
Demand has gone down due to the increase in gas prices; with demand now lower, oil companies may feel the need to alter production to match said lower demand. Industry experts urge against this.
"Regardless of price fluctuations, producers should stay firm with their output and if anything, keep encouraging more domestic production," said Tim Snyder, economist for Matador Economics.
As prices continue to fall, consumer demand for gas is likely to jump back up as more drivers are encouraged to get back on the road, which GasBuddy analysis predicts will further push national gas prices below $4 per gallon. If demand jumps back up, producers will need to be careful of the price adjustments they make and not get too comfortable with drastic price increase.
"We allowed prices to rise to the point where they began to destroy our own demand. People started to alter their driving habits; we allowed the price of gasoline to rise so much that it began to destroy demand not feed it," Snyder said.
The other side of this coin is that if gas supplies remain low and travel season kicks into full gear now that gas prices are lowering, the rapid decline in consumer prices we've seen could skyrocket back up, Snyder explained. With increasing gas demand but a pressing need to refill the U.S.' strategic petroleum reserves, producers may need to live with making less money in the short term as they rebuild oil supplies.
"Will the E&Ps, the exploration production companies, find a motivation to increase production past 12 million barrels that we are currently at today? Second, will the refineries find ways to increase their production output? The answer is a qualified yes, but they all need to see the restrictions placed on the industry and relax enough to allow for changes to be made so that we can fulfil the demand," Snyder said.
Should consumers and producers remain steady in their demand increase and their output of gas respectively, it could begin the process of stabilizing the economy after such a difficult period of inflation, the highest annual increase seen in 40 years. This stabilization will not be without difficulty, as many pieces need to fall into place in order for success, but this will play a critical role in overall inflation trends reversing.
Latest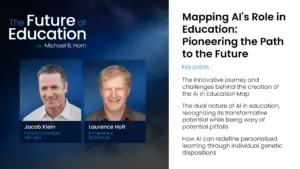 October 2, 2023
Mapping AI's role in education should be a critical step in bringing together innovative technology-based solutions with the expertise of human educators. With rapid advancements in artificial intelligence and an increased reliance on technology-driven educational solutions, the education landscape is on the brink of a significant transformation. AI promises highly personalized learning experiences, efficient administrative […]
Read More