Metered Spending for Instruction Materials: How Will the American Rescue Plan Impact Spending?
The COVID-19 pandemic caused a massive 360 in the way education was conducted, with learning shifting to a virtual format. Not only has the format of education shifted, but so has the funding; for the 2023 fiscal year, 88.3 billion dollars has been allotted to K-12 COVID-relief. The back-to-school American Rescue Plan released by the White House and U.S. Department of Education helps parents navigate local fund use.
Districts are now using more of a metered spending for instruction materials approach for services such as tutoring and other instructional materials to combat learning loss from COVID-19. The Plan states that schools can use the funding for tutoring, summer learning, teacher recruitment, and increasing access to mental health services. In addition to providing guidance on fund usage, the American Rescue Plan aims to draw families into the funding conversation.
Will the metered spending for instruction materials trend continue through the American Rescue Plan or will schools alter funding methods? And how will school districts prioritize the funding use, which must be decided by September of 2024? Doug Roberts, Founder and CEO of the Institute for Education Innovation, provides insight to how COVID-19 has changed educational spending habits and how the American Rescue Plan may impact spending.
Doug's Thoughts
"I've never before seen a business model for procuring a product, talking specifically about the purchasing procurement model change so dramatically. We're seeing a ton of districts choose to go with a metered spending approach on intervention solutions, particularly solutions involving: live tutors, virtual tutors, sometimes onsite tutors, sometimes intervention by text, you know, text messaging back and forth between kids and tutors or live video tutoring.
You're seeing districts really shift how they purchase instructional materials in this way. It's a new model that really has come up through the pandemic as a way to address so-called learning. and to address the gaps that show up between various kids and in many cases, to address gaps related to equity, the kind of resources available to kids in some districts versus others.
You're seeing districts adopt these solutions on mass. What's gonna happen when the fiscal cliff comes in fall of 24? How many of these solutions will survive? How many of these districts will continue to do this kind of work, or will they go back to the kind of, SAS Annual license model that's in innovation that I'm watching? And here at IEI we run the Supes Choice Awards so that we can get some of the best district leaders in the country reviewing these solutions and innovations and models and providing feedback, back to the industry about which ones are gonna be most effective for kids.
You can learn more about Supes Choice at supeschoice.com, s u p e s, choice.com. We start taking applications in the summer of 23."
Article written by Cara Schildmeyer
Latest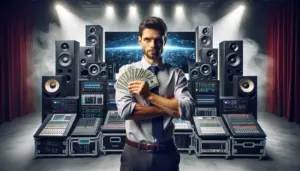 December 8, 2023
Mastering AV sales strategies in a global professional audio-visual (Pro AV) market, poised to reach $79.2 billion by 2028, requires much attention to detail. The surge in demand from corporate, government, and institutional sectors, driven by the need for enhanced productivity and efficient working environments, gives AV sales pros a lot of opportunity. In […]
Read More