Re-purposing With A Purpose: Recycled Buildings Bring Back Industry
Re-purposed buildings are not a new trend. For centuries, retailers, restaurateurs and business owners of all kinds have found ways to fit their concepts into unconventional spaces. However, as trends have evolved, there has been a boom in restoring old and unused spaces into fresh, vibrant locations again.
Today we look at some of the most creative redesign concepts to see what can be done with spaces that most would think of as inhospitable.
Retail
Recently, retailers are adding an identity and theme to their stores by re-purposing old buildings. Whether it is a hollowed out factory or even an abandoned firehouse, retailers are becoming eye-catching locations thanks to former eye sores.
Green Front's re-purposed warehouses and restored buildings form the centerpiece of Farmville's historic downtown. Come visit! #shopgreenfront #farmvilleva pic.twitter.com/IOI4LyhbwA

— GreenFrontFurniture (@GreenFrontNews) December 21, 2017
Again, speaking of lost buildings…this #Medhat firehall was repurposed into a jewellry store in 2017. Before and after photos of Roset by Reid https://t.co/s1eGqWKEK2 and the writeup https://t.co/H8FQfKXzgW #MedicineHat pic.twitter.com/QmsLtEyzx9

— I am Tracy Hyatt (@iamtracyhyatt) March 30, 2018
When in #Montreal, a stunning overall Flagship must-see @birks – iconic building repurposed to include high-end hotel, restaurant and eye-popping jewellery https://t.co/Q6ALdHB9rx Bravo! #exciting #destination #Retail – photos & article via @RetailInsider_ pic.twitter.com/ia3oCa7Bii

— DJ Brisebois-RCC (@loveretail) June 13, 2018
Restaurants
Restaurants come in all shapes and sizes, from traditional sit down experiences to grab and go food trucks. Naturally, the hospitality industry lends itself to re-purposed spaces of all kinds.
https://twitter.com/theboxlabs/status/1028694127842676736
In London, a disused garage is being partially converted into studios, restaurants, and more; even parking garages can be re-purposed. | Discover: https://t.co/mBOQFWKlH6 pic.twitter.com/TGdZanBd81

— Petroleum Service Co (@PSCOnlineStore) March 30, 2018
Visited our local church today which, instead of closing down, has been re-purposed to include the local museum, library and a restaurant. Love it!
@PenPure1 @BrannanJulia @Vanilla627 @cbraunnj @annap905 @Annabella1709 @jwb1764 @taft_jenny @GraziaMgb616 @qpdollpink pic.twitter.com/fInjoxaKZG

— Roma Sars (@romasars) April 7, 2018
Churches
Churches are built with as defined a purpose as almost anything. However, that does not mean they cannot be redefined upon the years neglect. Whether it is for work or play, houses of worship can be used by sinners and saints alike.
Old church building re-purposed for skateboarding (Llanera, Spain). pic.twitter.com/eswxcaEc71

— Yung Likes (@elidot) September 8, 2017
Nice story from @NEXTpittsburgh about a church in Braddock being re-purposed as an office … http://t.co/iVTMm8aZIV pic.twitter.com/t2PYksoOMF

— I heart PGH (@iheartpgh) September 5, 2015
Office Space
Modern companies are continuing to seek out new office spaces to separate themselves from typical mundane cubicle-laden floor plans.
https://twitter.com/moodspaces/status/964550987322216450
Re-purposed office spaces have a global appeal, #officedesign, @officefurniturenow, https://t.co/3imvFFNIiW pic.twitter.com/ECtyk62cO0

— Office Furniture NOW (@GreenCubicles) June 12, 2017
Lisbon is now home to a re-purposed co-working space that embraces the idea of green #office design – https://t.co/wUdC09Ud7O pic.twitter.com/LrRUwDNsuS

— Interactive Space (@OfficeRelocate) March 31, 2017
Latest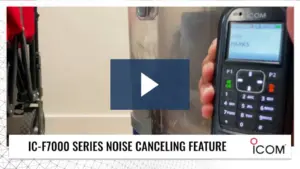 September 27, 2023
In this brief product demonstration video, ICom's IC-F7000 Series receives a mic test of its noise-canceling feature. Through the two demonstrations it is clear the IC-F7000 removes loud ambient noise for clear two-way communication.
Read More