Photography is a Never-Ending Learning Process
This is In Focus, by MarketScale. A podcast by video professionals for video professionals, putting in focus the topics, teachers and tips guiding the video industry today. With your host, MarketScale's Sr. Director of Video Production, Josh Brummett.
On this episode of In Focus by MarketScale, host Josh Brummett was joined by David Spector of David Spector Media, a full-service photo and video production company. Committed to providing the best service possible at an affordable price, his company focuses on small businesses, helping them to gain a video presence online, while also working on training videos, and event and seminar coverage for larger companies.
Boasting a vast and spectacular portfolio of landscape, portrait, light painting, and abandoned building photography, as MarketScale's Senior Director of Video Production by day and photographer by hobby, Brummett wanted to delve into the reasons why Spector chose his profession. Further, he wanted to know what goes into capturing that perfect shot so that the image tells a story, the three fundamentals to always keep in mind, the art of abandonment photography (Spector's sweet spot), how he transitions from deserted, decaying properties to adding people into the mix, as well as his approaches to photography versus videography.
"If you're shooting people, you want to always make sure the eyes are in focus," Spector advised. "Also, never put somebody dead center. Sometimes you will—like if you're doing headshots or something. But if you're trying to tell a story and do a little more artistic shot, you always want to put them off to the side—that's the rule of thirds. So, if you imagine your frame and there's two horizontal lines and two vertical lines going through it, and you have those cross points—those are where you want to put the main frame of your subject."

Latest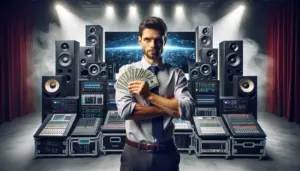 December 8, 2023
Mastering AV sales strategies in a global professional audio-visual (Pro AV) market, poised to reach $79.2 billion by 2028, requires much attention to detail. The surge in demand from corporate, government, and institutional sectors, driven by the need for enhanced productivity and efficient working environments, gives AV sales pros a lot of opportunity. In […]
Read More