Catalytic Converter Theft Protection
Dallas, TX – Pavion, a leading provider of audiovisual and IT solutions, recently featured a discussion on their podcast ClearConnect about the growing issue of catalytic converter theft in the United States. The episode features Scott Anderton, VP/General Manager ION247, A Pavion Company, and Mike Wilson, VP of Integrated Solutions at Pavion.
Catalytic converter theft has become one of the fastest-growing crimes in the country, with thieves able to remove them from underneath vehicles in just a minute and a half using appropriate saws and devices. The stolen catalytic converters can sell for between $500 and $700 per unit on the market. This type of theft is not only impactful to car dealerships or lot owners but also to insurance companies.
During the podcast episode, Anderton and Wilson discuss how technology can help mitigate and prevent catalytic converter theft. They also share insights on how thieves are stealing catalytic converters from underneath vehicles and how to crack down on the theft.
Anderton has been in the video and IT managed services business for most of his career. He started as a Senior Network/Systems Engineering Manager for Sprint and has held leadership roles at numerous enterprises. Wilson holds over 23 years of experience in field systems integration and has helped make Pavion what it is today.
Pavion is a leading provider of audiovisual and IT solutions that help businesses improve their communication, collaboration, and productivity. They offer a wide range of services, including design, installation, maintenance, support, and training.
For more information about Pavion or to listen to the ClearConnect podcast episode featuring Scott Anderton and Mike Wilson discussing catalytic converter theft prevention, visit their website at www.pavionsystems.com.
Latest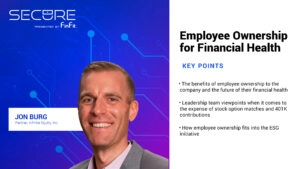 June 8, 2023
Dallas, TX – The newest podcast episode of SECURE by FinFit explores the rising trend of employee stock ownership plans (ESOPs) and how they impact employee behavior and financial resiliency. According to Gallup, 58% of Americans owned some form of stocks in 2022, but only around 4% of the U.S. population participate in ESOPs. However, […]
Read More