Change Starts Here: Life Between Summers with Shannon Olsen
On a recent episode of Change Starts Here, host Dustin Odham spoke with Shannon Olsen, a former second-grade teacher turned children's book author. Olsen has authored multiple children's books aimed at elementary classrooms that have a global impact beyond the classroom.
Olsen discussed how her experience as a teacher inspired her to create teaching materials for other classrooms and led her to write her first children's book, Our Class is a Family. She also explained how her books are used in classrooms, from elementary to high school, and the joy she feels knowing that her work is being used in classrooms worldwide.
Olsen's books, including A Letter From Your Teacher and Our School is a Family, have been praised for their positive messages and teaching tools for children. Her teaching resources and website Life Between Summers continue to support teachers and inspire children to learn and grow.
As Olsen demonstrates, teaching skills can be utilized in multiple ways to make a positive contribution beyond just the classroom. Her work offers valuable resources for educators and students alike, promoting a sense of community and learning that extends beyond the classroom walls.
Latest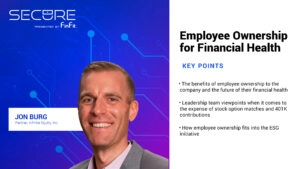 June 8, 2023
Dallas, TX – The newest podcast episode of SECURE by FinFit explores the rising trend of employee stock ownership plans (ESOPs) and how they impact employee behavior and financial resiliency. According to Gallup, 58% of Americans owned some form of stocks in 2022, but only around 4% of the U.S. population participate in ESOPs. However, […]
Read More