Creating a Proper Power Plan: RoseWater CEO Joe Piccirilli Shares Insights on The Next Generation of Energy Podcast
Dallas, TX – Residential homeowners must understand power quality and reliability to keep their devices running efficiently. To shed light on this topic, Bobby Brill, the host of The Next Generation of Energy podcast, spoke with Joe Piccirilli, CEO of RoseWater Energy Group.
In this episode, Piccirilli shares insights on how to create a proper power plan for the home. He emphasizes the growing need for sophisticated home medical devices requiring a reliable energy supply and forming a power plan with the correct type of alternative power storage to assist with power grid load changes and other issues.
Joseph Piccirilli is an accomplished consultant, strategist, and speaker with four decades of experience in the consumer electronics, systems integration, and energy industries. In his current capacity at RoseWater Energy Group, he oversees the manufacturing, sales, and distribution of leading new technology for residential power storage and handling efforts.
About RoseWater Energy Group:
RoseWater Energy Group creates innovative and intelligent energy management systems for governments, utilities, industries, and residential consumers. Its products include residential energy solutions such as HUB SB20 and HUB SB20-208V and commercial energy solutions such as HUB SB20-480V.
Latest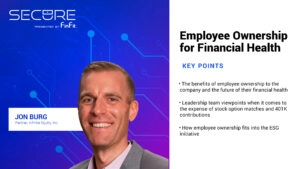 June 8, 2023
Dallas, TX – The newest podcast episode of SECURE by FinFit explores the rising trend of employee stock ownership plans (ESOPs) and how they impact employee behavior and financial resiliency. According to Gallup, 58% of Americans owned some form of stocks in 2022, but only around 4% of the U.S. population participate in ESOPs. However, […]
Read More