CurveBeam AI Empowers Orthopedic Surgeons with Improved AI Imaging Technology
Imaging and diagnostics are crucial aspects of healthcare, especially in orthopedics, where it aids surgeons in performing successful procedures. CurveBeam AI, a leader in developing equipment to support orthopedic surgeons, is revolutionizing AI imaging technology with its cutting-edge equipment.
In a recent episode of the "CurveBeam AI" podcast, Dr. Lew C. Schon, orthopedic surgeon and professor, interviewed Stuti Singh, the company's Director of Imaging and Diagnostics, to discuss the role of AI imaging technology in orthopedics.
Dr. Schon and Singh delved into the challenges associated with metal hardware and how it affects imaging. They also discussed the conversion of 2D images to 3D images for higher quality and better orthopedic estimations. Additionally, the discussion covered how data and troubleshooting play a significant role in CurveBeam AI's algorithm.
Singh emphasized the importance of collaborating with customers and using their feedback to improve the product. She revealed that CurveBeam AI uses the clinical data provided by customers to test newer versions of the algorithm, which leads to better and more accurate results.
CurveBeam AI's innovative technology is a gamechanger in the field of AI imaging and orthopedics. It empowers orthopedic surgeons to detect and perform successful procedures, leading to better patient outcomes.
Latest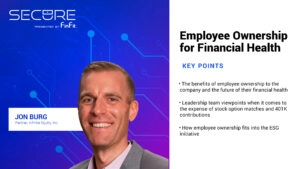 June 8, 2023
Dallas, TX – The newest podcast episode of SECURE by FinFit explores the rising trend of employee stock ownership plans (ESOPs) and how they impact employee behavior and financial resiliency. According to Gallup, 58% of Americans owned some form of stocks in 2022, but only around 4% of the U.S. population participate in ESOPs. However, […]
Read More