DigiTech Adapts and Succeeds Amid COVID Challenges
[San Antonio, TX] – The COVID-19 pandemic brought unprecedented challenges for businesses worldwide, and DigiTech was no exception. However, the company managed to turn the situation around and transform the difficulties into opportunities for growth and innovation.
In a recent interview with Gabrielle Bejarano, DigiTech President Patric Coldewey shared insights into how the company navigated the pandemic and its impact on their operations. "Instead of just sitting there and going home, and not really being able to do anything or feel like we were helpless, we tried solving problems," he said.
One of the significant problems DigiTech faced was the labor shortage. However, the company managed to overcome this challenge by using automation to improve their workflow, which turned out to be a critical factor in their success. "Automation is trying to get more out of the people that you have," Patric said.
Despite the pandemic's adverse effects, DigiTech was able to compete comfortably with the big names in printer technology. "2020 was supposed to be a big year, it ended up not being that year, and our 2022 was actually where our 2020 was," said Patric. "So we kind of switched on that, it took us a couple years longer, but we fine-tuned things and used the time to develop our name and reputation in the industry."
DigiTech's ability to adapt and thrive during challenging times demonstrates the company's resilience and commitment to innovation. The company's success story is an inspiration to many other businesses that have been affected by the pandemic and are looking for ways to overcome the challenges.
About DigiTech: DigiTech is a leading technology company that specializes in the design and manufacture of printers and other electronics. The company is committed to providing innovative solutions that meet the evolving needs of businesses and consumers worldwide.
Latest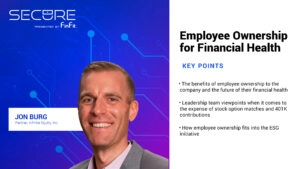 June 8, 2023
Dallas, TX – The newest podcast episode of SECURE by FinFit explores the rising trend of employee stock ownership plans (ESOPs) and how they impact employee behavior and financial resiliency. According to Gallup, 58% of Americans owned some form of stocks in 2022, but only around 4% of the U.S. population participate in ESOPs. However, […]
Read More