Embracing Crazy Ideas with Kobi Yamada
Dallas, TX – Innovators, change-makers, disruptors, and idea people create the solutions that make a difference in today's world. Is there ever an idea that's too crazy? Not in Kobi Yamada's book, it's not. Embracing crazy ideas is what Yamada is all about.
Yamada is a New York Times best-selling author and the CEO of Compendium, Inc. He started Compendium 30 years ago to bring thoughtful and inspiring gifts to the masses. And then he had a crazy idea to write a picture book. That book, "What Do You Do with an Idea?" led to others.
Dustin Odham, host of the Change Starts Here podcast, spoke with Yamada about his career, the concept of embracing crazy ideas, and how he uses his books to foster that idea growth within people.
Odham and Yamada discuss the nature and value of ideas and putting action into inspiration. They also delve into Yamada's company, Compendium.
"Compendium, at its heart, wants to make gifts," Yamada said. "And they want to make gifts for people to share, connect, appreciate, and celebrate. We make journals, gift books, greeting cards, pop-open cards, and children's books. We love the power of words. We love inspiration, and that inspiration is sort of in the DNA of the company. It's something that ties and threads each product together."
Kobi Yamada is a multiple New York Times best-selling author with books in over 30 languages. His books have sold millions of copies and inspired a dance performance, a symphony performance, a musical theater performance, and an upcoming animated film.
Compendium, Inc. is a company that creates inspirational products and gifts designed to inspire and motivate individuals to live their best lives. The company, founded in 1985, is headquartered in Seattle, Washington, and has become a leading provider of unique and meaningful gifts for people of all ages. Compendium's products include journals, cards, books, and other items that feature inspiring quotes, beautiful artwork, and messages of hope and encouragement.
Contact
Compendium
1420 80th Street SW
Suite C
Everett, WA 98203
https://www.live-inspired.com/
Latest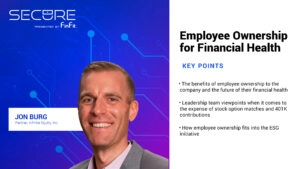 June 8, 2023
Dallas, TX – The newest podcast episode of SECURE by FinFit explores the rising trend of employee stock ownership plans (ESOPs) and how they impact employee behavior and financial resiliency. According to Gallup, 58% of Americans owned some form of stocks in 2022, but only around 4% of the U.S. population participate in ESOPs. However, […]
Read More