Employee Ownership for Financial Health
Dallas, TX – The newest podcast episode of SECURE by FinFit explores the rising trend of employee stock ownership plans (ESOPs) and how they impact employee behavior and financial resiliency. According to Gallup, 58% of Americans owned some form of stocks in 2022, but only around 4% of the U.S. population participate in ESOPs. However, there has been a recent uptick in companies promoting ESOPs to employees.
Host Charles Lattimer of FinFit interviewed Jon Burg, Partner at Infinite Equity, Inc., to discuss the benefits of employee ownership to the company and the financial health of both employees and the company. They also delved into the viewpoints of leadership teams when it comes to the expense of stock option matches and 401K contributions, and how employee ownership fits into the ESG initiative.
Burg emphasized that ownership culture is a mindset and not something that can be measured. This episode provides valuable insights into the benefits of ESOPs for both employees and employers and sheds light on how employee ownership can drive better financial outcomes and foster a culture of ownership.
Latest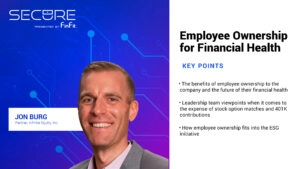 June 8, 2023
Dallas, TX – The newest podcast episode of SECURE by FinFit explores the rising trend of employee stock ownership plans (ESOPs) and how they impact employee behavior and financial resiliency. According to Gallup, 58% of Americans owned some form of stocks in 2022, but only around 4% of the U.S. population participate in ESOPs. However, […]
Read More