Engaging Your Students in Extended Learning Time (ELT) with Lynne Fox
Dallas, TX – In a post-pandemic world, students are playing catchup with their education, with additional needs for those in underserved communities. Educational disparities exist in all areas of education, especially in the STEM curriculum, where gaps can hurt students looking to take their careers in those directions. How can educators get students back on track? Extended learning time (ELT) is one method showing results.
Extended learning time is an equation involving all education leaders creating the right policies and strategies to achieve success with the correct balance of resources, a precious commodity in education.
Dustin Odham, host of FranklinCovey's Change Starts Here, tapped a good friend and co-worker to discuss the importance of extended learning time and some best practices for making that time count in increasing student learning and engagement. Lynne Fox, Global Education Developer and Coach at FranklinCovey, joined Odham for that conversation.
Odham and Fox discuss the following:
– Taking learnings from educational systems across the globe for best practices
– Why extended learning time is more critical now than ever before
– Best practices for successful extended learning time programs
"In the afterschool space, we have a vision in two parts," Fox said. "One, raising up the staff that are in the space to know how to build a safe, caring, and sense of belonging culture, so kids want to be there. And the other side is saying we also want to bring in building up the competence."
About Lynn
Lynn Fox is an innovator, strategic planner, and coach. In addition to her role with FranklinCovey, Fox is the global education developer at Fox Educational Services. Fox is a lifelong educator, trainer, and speaker who excels at educational design and development and strives to impact children's lives positively.
About FranklinCovey
FranklinCovey is a global consulting and training firm helping individuals and organizations achieve their goals and improve their effectiveness. FranklinCovey offers a range of services, including leadership development, time management training, productivity coaching, and organizational consulting. The firm is well-known for its flagship training program, The 7 Habits of Highly Effective People, used by millions worldwide. FranklinCovey's mission is to enable greatness in individuals and organizations everywhere.
Contact:
For more information on extended learning time or educational development insights from FranklinCovey's Change Starts Here podcast featuring Dustin Odham and Lynn Fox, visit https://www.franklincovey.com/
Latest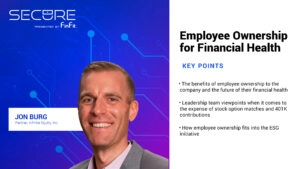 June 8, 2023
Dallas, TX – The newest podcast episode of SECURE by FinFit explores the rising trend of employee stock ownership plans (ESOPs) and how they impact employee behavior and financial resiliency. According to Gallup, 58% of Americans owned some form of stocks in 2022, but only around 4% of the U.S. population participate in ESOPs. However, […]
Read More