Hai-er Automation: 4 Tips to Identify Flexible Robotic Storage Automation
Hai-er Automation, the podcast dedicated to exploring the latest trends and advancements in robotics and automation, recently aired an episode discussing the topic of flexible robotic storage automation. Hosted by Michelle Dawn Mooney, the episode featured two industry experts, Brian Reinhart, Vice President of Sales, Solutions, and Marketing at Hai Robotics, and Zac Boehm, Vice President of Robotic Solutions at Hy-Tek Intralogistics.
The experts delved into the complexities of defining flexibility when it comes to robotics and automation. Reinhart emphasized the importance of considering the spectrum of effort required to change or adapt a system, and whether such changes can be made in a cost-effective manner that minimizes disruption. Both Reinhart and Boehm stressed that the ability to easily adapt to change is key to successfully integrating flexible robotic storage automation into a company's operations.
Additionally, the episode covered the best ways to expand robotic automation without major risk, the ideal timing for implementing such expansions, and how to manage robotic automation in a cost-effective way. As automation continues to play an increasingly prominent role in the workforce, companies must find new ways to adapt, and flexible robotic storage is one potential solution.
Latest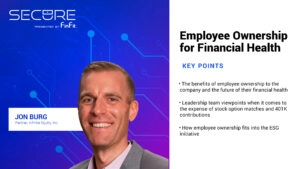 June 8, 2023
Dallas, TX – The newest podcast episode of SECURE by FinFit explores the rising trend of employee stock ownership plans (ESOPs) and how they impact employee behavior and financial resiliency. According to Gallup, 58% of Americans owned some form of stocks in 2022, but only around 4% of the U.S. population participate in ESOPs. However, […]
Read More