Is My School a Better Place Because I Lead It?
Jersey City, NJ – On today's episode of Change Starts Here, host Dustin Odham and special guest Principal Kafele discussed the importance of leadership and how to be a transformational leader. They discussed how to create a learning revolution, how to get over speed bumps people put in front of themselves, and leadership advice on how to get people on board and build relationships.
Kafele is a highly regarded urban public school educator in New Jersey for over twenty years. He is also the author of seven books, including his national best-sellers, "Motivating Black Males to Achieve in School and in Life", "Closing the Attitude Gap", and his recently released title, "The Principal 50: Critical Leadership Questions for Inspiring Schoolwide Excellence".
The podcast ended with Kafele asking the question: Is my school a better place because I lead it? He reminded listeners that it's never about them; it's about the people they lead.
About Change Starts Here
Change Starts Here is a podcast dedicated to inspiring leaders to become their best selves. Host Dustin Odham interviews experts from around the world on topics such as leadership, education, business, and more. The podcast aims to help listeners become better leaders in their own lives and organizations.
Latest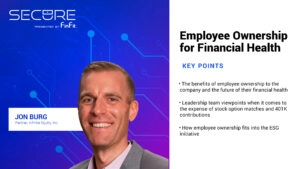 June 8, 2023
Dallas, TX – The newest podcast episode of SECURE by FinFit explores the rising trend of employee stock ownership plans (ESOPs) and how they impact employee behavior and financial resiliency. According to Gallup, 58% of Americans owned some form of stocks in 2022, but only around 4% of the U.S. population participate in ESOPs. However, […]
Read More